Due to the current situation we cannot offer children's birthdays. We ask for your understanding.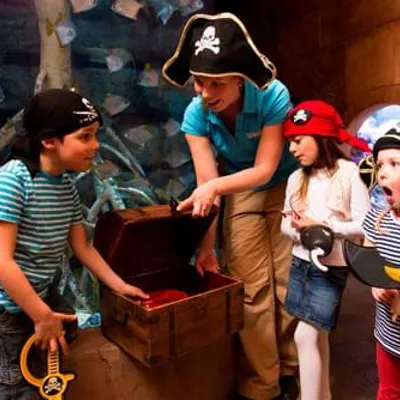 Party package SEA LIFE Constance only 13,45€ per child
Our birthday service for you:
- Greeting of the birthday group
- Exciting treasure hunt through the aquarium (please bring or book treasure for the chest)
- Day ticket per birthday guest for SEA LIFE Constance on the day of the birthday party
- Free SEA LIFE annual pass for the birthday child as a gift
- Free admission for the birthday child and one accompanying adult
Create the birthday according to the children's wishes! How about if everyone comes dressed as pirates and mermaids?
Other additional services and prices:
Add-on treasures are put together by the staff of SEA LIFE Constance from our store (soft toy, pendant, gemstone, medal - may vary): 5.00 € per person. Of course you can also bring the "treasure" for the chest yourself!
Each child pays 13,45€ and each additional adult pays 14,45€.
*Time registration recommended. Minimum number of participants: six children (incl. birthday child) and one adult.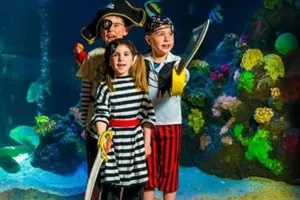 Pirate treasure hunt
Are you brave? Are you ready? Then look forward to a very special adventure with your fearless pirate crew at SEA LIFE Constance. Search for the hidden treasure! Will you become a real SEA LIFE pirate and find the treasure?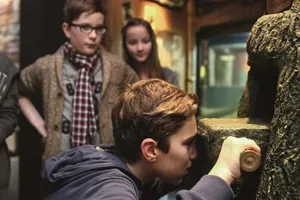 Researcher Treasure Hunt
15 years ago, a submarine named MS SUBO set off with its crew on an expedition through the world's oceans. On their way, however, they lost their trail.
Can you and your crew find the station of SUBO? Discover exciting fish from all over the world on your own research trip and open the box of secrets in the research station.
Book now
Hotline: 0731 - 146 115 331 (0.20 €/call from the German landline, mobile phone max. 0.60 €/call)
FAQ
Experience shows that children between the ages of 4-12 years have the most fun at SEA LIFE. 
But of course this also depends on the children's interests and other factors and can also be very exciting for some older children.
Our additionally bookable guided tour is suitable for children from 6 years on.
Yes, a child's birthday can be celebrated in SEA LIFE regardless of the weather.
Our exhibition is located inside the building.
The birthday group receives express admission. However, if there is a large number of visitors, short waiting times must be expected. At the cash desk, the host pays for the children's birthday party and hands over the treasure brought along, if the pirate treasure was not booked additionally.
After a small introduction, the SEA LIFE captain conducts a playful treasure hunt with the birthday group (duration: approx. 60-90 minutes).
The birthday group receives a greeting from us and together with the SEA LIFE captain they go on a hunt for the lost treasure. The additional accompaniment of an adult (over 18 years) is required.
We do not organize completely themed birthdays, but these can of course take place at our attraction, e.g. invitations could include that all children should come dressed as jellyfish, starfish, clown fish, other sea creatures or pirates!
We ask for your understanding that, for hygienic reasons, food you bring with you may not be consumed on site (except for baby food).
At the end of the exciting treasure hunt we offer either Wienerle with bread roll and drink or muffin and drink, each for 3,50 €* per person at our bistro. The table is reserved and decorated for the children.
Please inform us when you book if you would like to take advantage of this offer.
Yes, you are allowed to take pictures in our aquarium. However, please make sure to turn off the flash beforehand, as marine life is very sensitive to bright light.
Of course you can also have great souvenir photos taken at our Foto-Point. For only 5,00 € you can book a souvenir photo for the birthday child in advance.
This is not included in the standard package, just a small extra gift for the birthday child.
But you can add a "treasure" for the treasure chest. The pirate treasure for the treasure hunt contains 4 pieces per child: 
1 stuffed animal
1 sea animal pendant
1 precious stone 
1 gold medal
Of course you can also bring a treasure for the chest yourself. Just remember to hand it over to SEA LIFE before your birthday so that it can be hidden.
Alternatively, you can of course purchase small items for the children in the store after the treasure hunt.
Price 5,00€ per child.
The basic birthday package costs 13.45 € per child, additional adults pay 14.45 €. FREE ADMISSION for the birthday child and one adult accompanying person.
Children's birthday party with pirate tour: Daily 3 pm (outside the Easter vacations, Whitsun vacations and summer vacations in Baden-Württemberg)
Yes, the minimum number of participants at SEA LIFE Constance is 6 children (including birthday child) and a maximum of 12 children. Per birthday group at least one accompanying adults is required.
Yes, if you would like to celebrate a child's birthday with us, it must be booked in advance. Please note that some times may already be booked. Early registration is recommended (at least two weeks before the desired date). The sooner you book, the more likely the desired date is still available.
As soon as you receive a reservation confirmation from us, the reservation is binding. If you change your mind, please contact our Service Center in time by calling the booking hotline 01806 - 666 90 101 (0,20 €/call from a German landline, mobile max. 0,60 €/call).
If you still have questions and would like to talk to someone about this topic, please contact our service center at: 0731 - 146 115 331 (0.20 €/call from a German landline, mobile max. 0.60 €/call)
Children's birthday invitation and coloring pictures
Print your birthday invitation now and invite your friends! Or just print out painting templates and surprise your friends.