SEA LIFE Bangkok, Penguins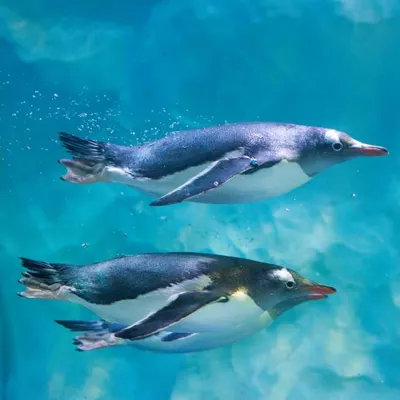 Gentoo Penguins
Gentoos are the third largest species of Penguin in the world after the Emperor and Kings.
Wild Gentoos live in one of the harshest landscapes on the planet, so this species is specially adapted to life in the cold. Their body is covered in an insulating layer of blubber and they eat lots of fish to maintain it. They also have a layer of woolly, insulating feathers covered by a second layer of smooth, waterproof feathers which helps to keep the warm in and the cold water out. Our enclosure has been specially designed to keep Gentoo Penguins cool and comfortable.
You see that on the land these birds waddle around in a comical manner, but under the water is a different matter! Through the underwater viewing window you'll see how graceful they are when they're swimming; Diving and swooping around as if they could fly.
The baby penguin
In 2017, we welcomed into the world our first baby Gentoo to be born here in Bangkok. We named her Happy.
How do we care for our Gentoo Penguin colony?
Come and visit SEA LIFE Bangkok to learn more!
Did you know?
Gentoos are nest builders, and they build their nests out of pebbles.