Book online and save!
Mobile Tickets for Faster Entry
Guaranteed Entry
Book online and save!
Mobile Tickets for Faster Entry
Guaranteed Entry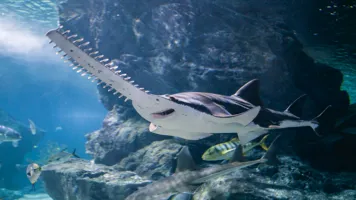 Makita
Discover our one and only Largetooth saw fish in Thailand!
SEA LIFE Bangkok's newest underwater adventure – welcoming 15 species of 65 sharks and offering an edutainment mission to visitors.
Wandering through the aquarium's longest underwater tunnel in South East Asia, one shall meet with the first highlight of the family: Thailand's one and only Large-tooth Sawfish with its distinctive saw-like rostrum. Despite its seemingly predatory rostrum and shark-like body, the sawfish is friendly and lovable.