6 Unusual Things To Do in Bangkok
Friday October 16th 2020
SEA LIFE Bangkok
Article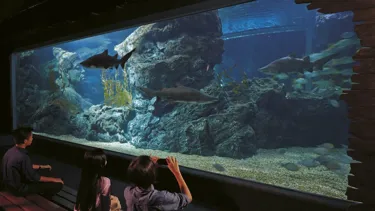 Think outside the square while in Bangkok – there's weird and wonderful everywhere. In the heart of the city, a single wildlife attraction has more than its fair share of extraordinary things to do; from walking amongst sharks to seeing penguins in the snow!
Penguin Ice Playground
Who knew you could encounter Gentoo Penguins in the heart of this big city? Hang out at the Ice Playground zone with these ever-adorable birds; marvel at their acrobatic underwater antics and have a giggle as they waddle around on the ice. And if you want an in-depth insight into the penguins and their personalities – read all about them and ask their keepers to tell you secrets about their habits and abilities. Their exhibit is snowy and cold, so you'll feel like you're in the Antarctic too.
Shark Walk
Muster your courage and take a walk on the shark side! This is a very unusual experience, as all that keeps you from sharing space with four kinds of sharks, is a thin sheet of acrylic. You'll have loads to brag about! Remember to snap a selfie with one of these jawsomely beautiful creatures. Getting up so close helps you better understand these often misunderstood animals, and you can learn all about how amazing they are. It's an underwater adventure like no other.
Shark Dive
It's not every day you can dive with sharks – that's the very definition of unusual! Bangkok is a bustling centre that runs at a million miles an hour. Carry the same rush underwater as you delve deep into the world of these sleek and lovely beasts. Under the guidance of expert trainers, you don't need any prior diving experience to come face-to-fin with Sand Tiger, Blacktip Reef and Leopard Sharks. See Round Ribbontail Rays, Eagle Rays, and a whole host of other aquatic species too.
Ocean Walker
Another uncommon Bangkok experience is to walk among majestic marine creatures in the Ocean Walker zone. Suit up in special gear and spend some time walking among aquatic creatures big and small. This is a rare opportunity to get a 180-degree insight into the mysteries of the deep.
Ocean Tunnel
This state-of-the-art tunnel offers an exhilarating way to interact with these aquatic animals, all while in the Bangkok CBD. See sharks, Eagle Rays, Sawfish, Shovel Nose Rays and schools of fish swim all around you. Take your time and admire their gliding, stealth swimming styles and beautiful forms as they silently and swiftly move.
Rainforest Adventure
When you're done with all things underwater, there's one more out-of-the-ordinary thing to do. Visit the Tropical Rainforest zone – that's right, a lush, green rainforest in Bangkok's city centre. Hear the tranquil sound of waterfalls while you look out for the masterfully camouflaged frogs – keep a tally of how many you see. There are giant freshwater fish in the streams, and you can even reach out and touch some of the animals. Now that's unusual!
Animal Contact
At SEA LIFE Bangkok, there's yet another one-of-a-kind experience. No more wondering, you can now reach out and touch 5 amazing species: Leopard Tortoise, Blue Tongue Skink, Bearded dragon, Ball python and Red-eyed Crocodile Skink. This experience lets you feel the shell, skin and scaly textures of these unique animal's. An unusual end to a day packed with unusual things to see and do. There are 5 daily showtimes, starting at midday and finishing at 5pm.
Book Now