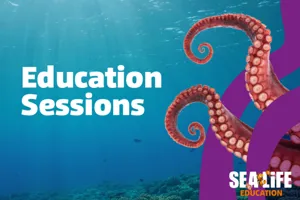 Our SEALIFE workshops provide a unique opportunity to honor, help, protect, and conserve our world's shared oceans. 
Our workshop shave a cross-curricular approach, with particular focus on:
Science (Adaptation, Inheritance, Evolution and Variation, Biological Processes, Marine Wildlife, Welfare and Conservation.)
Geography (Oceans Around The World, Ocean Habitats, Human Impact on the Ocean)
Literacy (Comprehension and Inference, Reading, Creative Writing Inspired by Wildlife)
Launches April 2023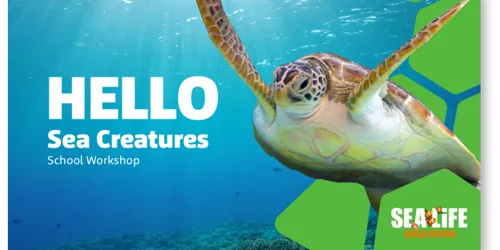 Sea Creatures Workshop
Recommended Age Group: 1st - 5th Grade
Invite students to learn about some of our core SEA LIFE creatures! Together they will dive into a world of amazing discovery to learn about three core creatures: sharks, jellyfish and seahorses - understanding their different needs and completing exclusive SEA LIFE quizzes for each. Students will think about the importance of animal welfare and use the core aquarium standards to create habitat exhibits for the different creatures, based on their standards to create habitat exhibits for the different creatures, based on their understanding of creatures' needs and happiness markers.
NGSS Curriculum Covered
1-LS1-1. 4LS1-1 Life Science: From Molecules to Organisms: Structures and Processes
2-LS4-1,3-LS4-3 Life Science: Biological Evolution: Unity and Diversity
Ready to Book?
If you require further information on school visits please contact our booking team. While we aren't accepting bookings at the moment, we'll be more than happy to provide all the information you need to ensure your students have a memorable, inspiring experience in the near future. Email: newjersey@sealifeus.com
SUBMIT BOOKING REQUEST
Receive classroom content & latest news!
Subscribe to our Educator Newsletter and stay connected. We'll deliver our newest teacher resources, keep you in the know of any special offers, educator event invites, friends and family discounts, giveaways and more!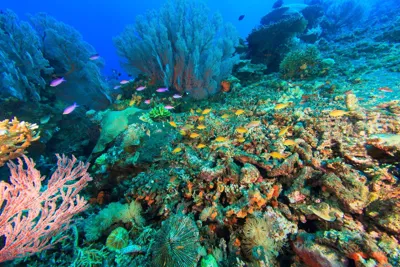 Please note the newsletter signup below is for general consumers, our Education Newsletter is tailored to meet your teaching needs! Please subscribe with the link above.