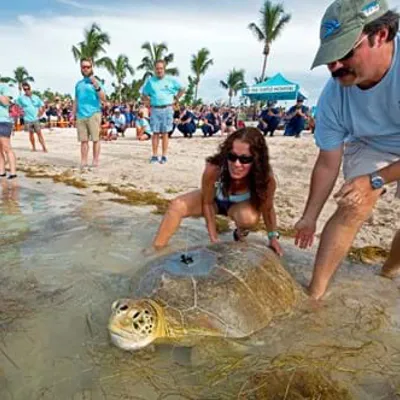 SEA LIFE Orlando joins Tour de Turtles!
The SEA LIFE Orlando team traveled to the Marathon Key to tag and released sea turtles with the Sea Turtle Conservancy. The Tour de Turtles follows the migration marathon of sea turtles, representing four different species, from their nesting beaches to their foraging grounds.
We worked closely with biologists and specialists to share and garner knowledge of the Gulf's sea turtle population. Our aim was to identify their habits and seek to improve environmental conditions that negatively affect them. Through satellite telemetry we will be able to monitor their travel patterns to determine how they fit into the Atlantic ecosystem. Through partnerships with the Sea Turtle Conservancy and The Marathon Turtle Hospital, and the support of the SEA LIFE TRUST we will continue efforts on both a global and local scale.
We successfully tagged, Little Money, a 365-pound female green sea turtle, from Money Key. She was found by a boater beached on Money Key back in June. It took two Turtle Hospital staff and three FWC officers on two boats to rescue her. After successful rehabilitation at the Turtle Hospital, Little Money is back to her home in the ocean! She is swimming in the Gulf of Mexico to raise awareness about the threat of boating strikes (which have tripled in Florida since 1980 according to the Tour de Turtles website).
Little Money's journey was funded by the SEA LIFE Trust in order to reach and inspire aquarium visitors. You can track Little Money's journey by clicking on the image below!

Support our other conservation programs