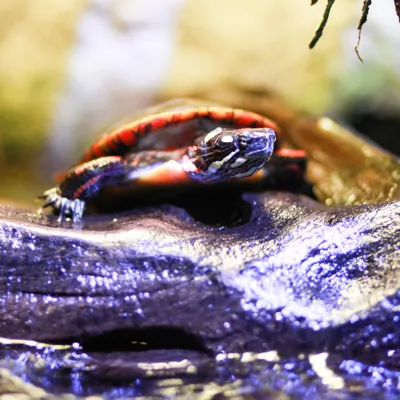 Meet our Turtles!
Did you know turtles have been around for more than 200 MILLION years? They shared our planet with the dinosaurs!
In addition to our two sea turtles, Ted and Chely, we also have our terrapin turtles! Our terrapin turtles love to lay on the rocks soaking up the heat in their tanks.
Come face-to-fin with all of our incredible turtles and learn all about these ancient creatures!
Ted the Loggerhead Sea Turtle
As a baby, Ted was one of the first turtles to test the Turtle Excluder Device (get it? T.E.D.!) which was developed to protect sea turtles from getting caught in fishing nets. Researchers tried to release Ted back to the wild several times, but he kept coming back to shore to visit his human friends! Ted has been with us at SEA LIFE Orlando Aquarium since 2016 and loves meeting all of the nice humans who come to our attraction!

Ted was voted Orlando's Most-Loved Animal (thanks to all of you!) and he has been featured on a Frontier Airlines plane! When Ted was notified of his big win, he made sure to prepare an acceptance speech to thank all of his supporters. Check out his plane reveal here!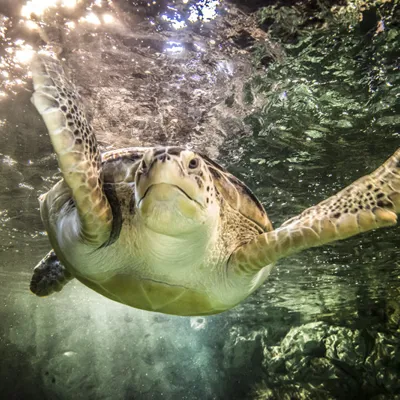 Chely the Green Sea Turtle
Chely came to us after a boat strike caused a crack in his shell. Because of this crack, Chely has trouble with buoyancy, meaning it's hard for him to swim deep under the water. Luckily, Chely still loves to swim and works with our aquarists to practice diving deep in his tank to strengthen his muscles! His favorite snack is lettuce, so our aquarists put lettuce at the bottom of the tank to encourage him to stay deeper in the water. 
Speaking of diving, did you know Green Sea Turtles can hold their breath for up to five hours? Chely loves to show off just how long he can stay underwater before coming up for air!