A Fun City Tour: 24 Hours in Bangkok
Friday October 16th 2020
SEA LIFE Bangkok
Article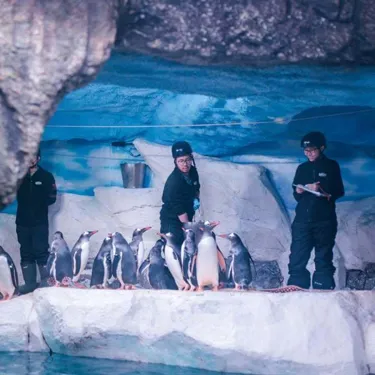 Every day in Bangkok is a good one. But if you're short on time, here's the best way to spend 24 hours with a full day's itinerary, from morning to evening.
Morning: Grand Palace
A trip to this temple complex is essential. Start your day in Bangkok with an experience that will set the tone for your day. Visiting the spiritual heart of the city will give you a great sense of place. As well as being home to the holy Emerald Buddha, a place of pilgrimage and a tourist hotspot, it's highly immersive and enjoyable.
Lunch: Wang Lang Market
When you're in a food paradise such as Bangkok, with deliciousness everywhere you look, cut to the chase and go straight for the best of the best. Across the Chao Phraya River, looking over from the Grand Palace is a Bangkok local foodie utopia: Wang Lang Market. Open daily from about 8:00am-6:00pm, it's a beautiful Bangkok experience.
Take the river boat from the Tha Chang pier to complete your experience; the breeze in your face, and the smells of the market wafting onto the waterway – get ready for a sensory sensation. Get off at Wang Lang pier; every inch of the narrow, long laneways are lined with street food vendors. Inhale the spices, see the colours, but most of all – don't be afraid to try a bit of everything. With a full belly, keep wandering through the alleys; you'll know when it's time for a Thai iced coffee or tea.
Afternoon: SEA LIFE Bangkok
This marine marvel is one of the largest in Southeast Asia. With awe-inspiring, exhibits and over 10,000 marine creatures, put SEA LIFE Bangkok Ocean World on your 24-hour itinerary. Located in Siam Paragon – BTS (Sky train) Siam Station, it's easily accessible from most city locations. See loads of underwater species from all over the globe in this family attraction.
Take a Behind the Scenes tour to uncover how things work at SEA LIFE Bangkok. Learn how the water quality is monitored and seize the rare opportunity to see the Aquatic Quarantine and Nursery Centre.
Watch the cheeky Gentoo Penguins in the Penguin Ice Playground. See these lovable and resplendent birds dart and dive underwater or waddle around on the ice. The cold air and snowy habitat will take you to the Antarctic.  
If you're feeling brave, you can Dive with the Sharks – no prior diving experience necessary. Drive with our expert trainers to come face-to-fin with Sand Tiger, Blacktip Reef and leopard Sharks, as well as incredible rays and numerous other marine animals.
Sunset: Lumpini Park
There's nothing quite like the sundown hours in this thriving city. After a day of beating sun and buzzing humanity, Bangkok takes a breather as she exhales the day. Lumpini Park is a lovely spot to sit and watch the golden hour. See the sunset at the end of the day, or go for a gentle stroll as the sky theatre unfolds. As the sky dances with pinks and apricots, you can see the hues hitting the city buildings. The city's biggest green space covers 58 hectares; get some fresh air and enjoy the blissful display.
Dinner and Drinks in Thonglor
Head back to your accommodation and put your feet up – but not for too long! After a short rest, put on your glad rags and head out to the trendy hotspot for all things eateries and nightlife. Catering to a plethora of palates, you'll find everything from fusion Thai to authentic street-side eats and tasty curry dishes. If you're hankering for international 
fare, choose from Italian, Indian, vegetarian and vegan food. And after your meal, there's impressive coffee at any one of Thonglor's cafés, arguably the city's best.
Feeling energised and full, you can stay to shop vintage, be pampered at one of the massage parlours or refresh with a mango or pineapple from a fruit stand. For night owls, continue on at one of the bars or the rooftop terrace. Cheers the end of your 24 hours in Bangkok with a cocktail.
Book Now