A Magical Family Holiday: Bangkok 3 Day Itinerary
Friday October 16th 2020
SEA LIFE Bangkok
Article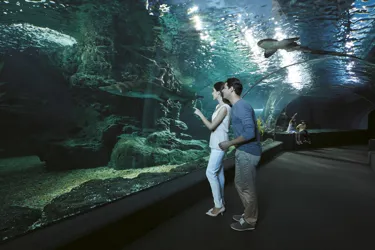 It's easy to spend a week in Bangkok; soaking up the dynamic atmosphere, getting to know the sights and sampling foodie delights. But if you've only got 3 days, here's how to condense it all into a doable itinerary.
Ancient Bangkok | Day 1
Blooming Lovely
See the colourful Thai culture play out in a rainbow of orchids, sunflowers and tropical blooms galore. Pak Khlong Flower Market runs 24/7; stroll among the bunches, bouquets and cut flowers – the earlier, the better. As the biggest fresh flower market in Bangkok, it's a memorable multi-sensory experience.
Temple Hopping
This is a Bangkok must, and why choose just one temple? They're all so different and incredible in their own way. Take a tuk-tuk and travel to the Grand Palace and Wat Phra Kaew, home to the Temple of the Emerald Buddha. Explore the sprawling grounds which hold over 100 buildings – there's no better way to get a sense of place on day 1.
Make for the Markets
First off, head to a morning floating market for a very Thai shopping experience. In a beautiful long-tail boat, float down the waterway at Bang Phli Floating Market, one of the city's oldest and most charming markets, dating back 150 years. Not so touristy, you can see traditional wooden-row houses and buy local delights like Thai noodles and fresh tropical fruit. You may even see a Buddhist monk paddle by.
New Bangkok | Day 2
More Market Fun
Known as 'Jatujak,' Chatuchak Weekend Market is one of the largest open-air markets on the planet. Go early before the sun gets fierce, and you'll find everything from fashion and homewares to plants, vegetables and food. It's huge, so use the clock tower to get your bearings.
Foodie Feast
A culinary adventure awaits, and the vest part is – it's all under one roof. At Siam Paragon, one of Thailand's largest malls, you can work your way around all the flavours and tastes in a food court feast.
Go Underwater
After you've eaten more than your body weight, go the basement at Siam Paragon where you'll find SEA LIFE Bangkok Ocean World. Much more than an aquarium, this attraction is packed with ocean experiences and adventures. See the depths from a glass bottom boat. Marvel at the sheer size of the Giant Spider Crab and the Giant Pacific Octopus – both masters of disguise. Take a Shark Walk to see these majestic creatures up close, with only a thin sheet of acrylic between you and their toothy smiles.
Cook up a Storm
Here, cooking is a way of life, and it's something you want to be part of. Learn all about working with the intricate and delicious Thai flavours, herbs and spices as you discover how to cook famous dishes from scratch. Take your newfound knowledge home and recreate famous Thai dishes – your friends will be impressed!
Relax & Unwind | Day 3
City Oasis
By this time, you're probably ready to have some breathing space. Bang Krachao, aka, Bangkok's Green Lung, gives you a peaceful pause. This big agricultural area covers 16 sq km and is made up of mangroves, little homesteads, raised paths over canals temples and a floating market. Hire a bike and pedal through this soothing setting; ride by a slice of Thai life.
Jim Thompson House
Open everyday 9:00am-6:00pm, this is the one-time home of the silk entrepreneur, Jim Thompson, aka, the Thai Silk King, who was born in the USA. After he saw the quality of Thai silk, he established notable clients in fashion houses all over the globe. You can also see his collection of parts of Thai homes and even grab a bite to eat for lunch.
Sunset at Golden Mount Temple
For an iconic place to take in a Bangkok sunset at the end of the day, climbing the 344 steps to this imposing temple is unforgettable. As you set out through the hanging trees, you'll hear monks chanting and ringing bells. When the ascent gets gruelling, keep your eye on the glinting golden mount at the top, and keep going. The payoff is a truly spectacular view, so remember your camera.
Wining and Dining in Thonglor
This is the trendy place to eat and drink, whatever your food preference. Choose from authentic Thai street food, a hot curry or a plate of international cuisine. If you're vegetarian or vegan, there's plenty of options too. Afterwards, have a coffee, and a juicy fresh mango from a fruit stand. Then head to the rooftop terrace for a cocktail and debrief about your 3 fabulous days in Bangkok.
Book Now