Bangkok Travel Guide: Getting Around, Trip Cost & Activities
Thursday September 28th 2023
SEA LIFE Bangkok
Article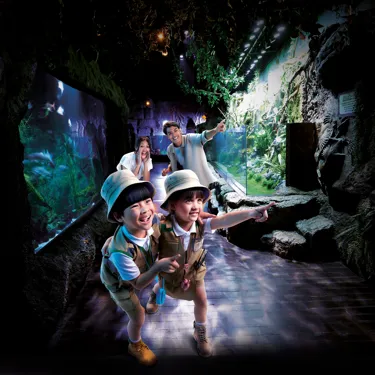 Make your way around Bangkok and discover the best places to go while sticking to your budget. Get local know-how on side with these tricks and tips to make the most of your time in the city.
Learn Local Language
In major cities like Bangkok, you can always find locals who speak English. But that doesn't mean you shouldn't make an effort to learn some Thai words, starting with 'Krungthep,' meaning 'Bangkok' in Thai. For the greetings 'hello' and 'goodbye,' say 'Sawadiikaa' for females and 'Sawadiikrap' for males. Thank you is ' Kobkhunkaa' for females, and ' Kobkhunkrub' for males, while 'Gepdthang noi' means 'cheque please.'
Memorise this handy phrase: 'Chuay buht meter dai mai kaa/krab?' – 'Could you turn on the meter?' And as you barter, say the amount in English, adding 'dai mai kaa/krab?' to
the end. This means 'Can we make it this price instead?' This expression can get you 10% off the price.
Calculate Costs
Bangkok is an affordable city, but costs can add up. From hostels to luxe hotels and street food to Michelin dining, this city's large variety means you can easily budget or bust your spending. Live like a local; eat street food, and steer clear of Western fare, and you'll be comfortable on 1,000 to 1,500 baht per day ($30 to $45 USD). Accommodation prices are lower from May to October – you'll save in low season.
Mai Pen Rai
This is a common phrase which translates to 'everything is OK.' In Bangkok, it's what the locals say when something doesn't go to plan. But the meaning of this little sentence goes deeper; Mai Pen Rai serves to sum up Thai culture as a whole. This is a country of happy-go-lucky people who are strong in the face of misfortune – while in Thailand, why not embrace the Mai Pen Rai state of mind?
Getting Around
Making your way from A to B in Bangkok is simple, with the world-class public transport system. The Skytrain runs from 6am-midnight daily, and the network only has two lines, with most attractions within a short stroll of a station.
If you're going to a venue near the Chao Praya River, like the Grand Palace and Wat Arun, the trains are terrific. River taxis are also an excellent option, but the Chao Praya Tourist Boat is fast and less crowded – look for the blue flag.
Taxis are plentiful in Bangkok, but traffic is dire, so if you hail one, ask the driver to put the meter on or settle on a price upfront. Tuk-tuks are fun and useful for short rides.
Top Activities
However long you've got in Bangkok, there's always more to see. Your best bet is to start with the Top 10 Extraordinary Things To Do in Bangkok . At a glance: The Grand Palace, Terminal 21, Chatuchak Weekend Market, Temple of Dawn, Wat Phra Chetuphon, Lumphini Park, Bangkok Art & Culture Centre, Ancient City, Visit a Floating Market and SEA LIFE Bangkok.
This shortlist covers Thai culture, history, architecture, underwater creatures, art, nature and local life.
Book Now