Best Month to Visit Bangkok: Events, Festivals, Seasons
Thursday September 28th 2023
SEA LIFE Bangkok
Article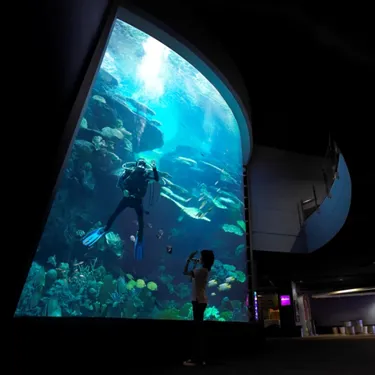 Find out which months make Bangkok shine; the seasons and the reasons for visiting at certain times of year. Bookmark the best events, attractions and festivals for your trip. When you know how to get the best of this city, Bangkok is unbeatable.
Bangkok Seasons
This city has 3 primary seasons: hot season (March-June), where temperatures can rise up to 40°C. Rainy season (July-October) and cool season (November-February). It's hot here, with most days breaking the 30°C mark: year-round. But there's a window when the heat and rain relent: December-February – Bangkok's weather sweet spot, and the most popular time to visit. Rainy season brings the monsoon, which can keep crowds away.
Festivals and Events
Bangkok is bustling with things to see and do, and this city knows how to do events. Try these for a start.
Concerts in the Park
During January and February, head to Chulalongkorn University Centenary Park to catch a free 2-hour outdoor concert each Sunday. Thai and Western music, famous vocalists, film and musical scores and classical favourites.
National Children's Day
Each year, on the second Saturday of January, the whole country celebrates children. Our little humans are treated to activities, rides, discounts and free entry to the Museum of Siam and Government House. Kids can get a pic in the Prime Minister's office too.
Chinese New Year
Falling on a different date every year, Chinatown comes alive to bring in Chinese New Year. Fireworks, dragons and delicious banquets are on offer, and keep your eye out for celebratory promotions at other venues across the city.
Songkran Festival
From the 13-15 of April, the country goes nuts; fun-fuelled water fights and colourful street parties in the beating heat. The commercial side of the city all but shuts down, while loads of locals leave town to be with family.
Loy Kathrong
On the full-moon of the 12th lunar month (usually November), Thai people flock to the river banks across the country to release their lit 'krathongs' on the waterways. These are pieces of the banana trunk, adorned with flowers, candles and incense which float down the rivers; a magical sight.
New Year's Eve
To bring in the new year on December 31st, you want to be at CentralWorld Square, Bangkok. A beer garden, light and sound displays, fireworks and live performances make this a jubilant spot to park yourself. For a fancier celebration, purchase a set dinner at a riverside venue.
Visit SEA LIFE Bangkok
With the shifting seasons and myriad of festivals and events, there's one attraction that always hits the spot. Every day of the week, whatever the weather, head to SEA LIFE Bangkok Ocean World and choose your underwater adventure. Make sure you plan to make the most of your visit; check out the Daily Feed and Talk Times. Watch freshwater fish, otter, shark and eagle ray, as well as Jackass and Gentoo Penguin feeds, or even take part in them yourself. There are loads of opportunities to learn all about the amazing marine life – like – did you know, stingrays are related to sharks? Check out the What's On page for current events.