Family Tour: Experience Bangkok Wildlife & Conservation
Thursday September 28th 2023
SEA LIFE Bangkok
Article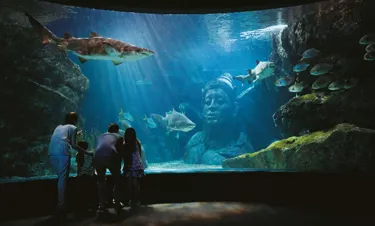 Who knew that while in Bangkok, you can journey to the depths of the sea and rainforest. For an unforgettable family experience, check out this top wildlife attraction in the heart of the city. Here are 5 ways to connect with the underwater world at SEA LIFE Bangkok Ocean World.
There are so many diverse creatures to discover. From Seahorses and Gentoo Penguins to the Giant Spider Crab and numerous Rockpool creatures, find out all about these animals and watch them do their thing. And who knows, you might find your new favourite creature – a magnificent shark, a colourful Clownfish or an inquisitive Sea Turtle. See them all, from the rescued to the rare; get close enough to marvel at their textures and watch their behaviours.
If you've ever wondered what goes on to keep the aquarium up and running and to ensure all animals are happy and healthy – this is your chance. Explore the secrets; visit the Aquatic Quarantine and Nursery Centre, and find out how the water quality is kept in check in the laboratory. Get hands-on with the ocean exploration equipment and uncover the mysteries in this rare glimpse behind the scenes.
Underwater animals and aquariums are incredible. Did you know, stingrays are related to sharks? And can you guess how many million gallons of water the aquarium holds? If feeding time is more your thing, you can catch freshwater fish, otter, shark and eagle ray, as well as Jackass and Gentoo Penguin feeds. Even better, you can take part in these feedings. To make sure you don't miss lunch, check the times before your visit.
SEA LIFE Bangkok Ocean World is committed to the ocean; to the creatures that live above and beneath the surface. By spreading knowledge and access to the beauty of our oceans, visitors will love them as much as their keepers. Many aquarium's creatures are on the endangered list or have been rescued and can't return to the wild. Some have even been born and bred as part of the attraction's conservation projects.
In keeping with the message – Breed, Rescue, Protect – SEA LIFE Bangkok and the dedicated staff have developed methods of best-practice animal husbandry, based on the experience of marine biologists, over many decades.
Conservation has many different faces. From ray breeding, coral propagation and monthly conservation initiatives to a sponsored 5-mile walk for whales and dolphins. Keeping the Good Fish Guide up to date, helps people ensure their fish comes from the right places.
When you surface from your underwater adventures, there's more fun to be had. Visit the Tropical Rainforest zone, and walk through lush, verdant rainforest, with the calming sound of waterfalls. Keep your eyes open for the frogs, which are expertly camouflaged – how many can you spot? There are giant freshwater fish in the streams, and you can even reach out and touch some of the animals.
At SEA LIFE Bangkok, the whole family can touch 5 amazing species: Leopard Tortoise, Blue Tongue Skink, Bearded dragon, Ball python and Red-eyed Crocodile Skink. This tactile experience allows you to feel the texture of these animal's shell, skin and scales – a unique end to a truly one-of-a-kind day. There are 5 daily showtimes, starting at midday and finishing at 5pm.
Book Now