Top 10 Extraordinary Things To Do in Bangkok
Friday October 16th 2020
SEA LIFE Bangkok
Article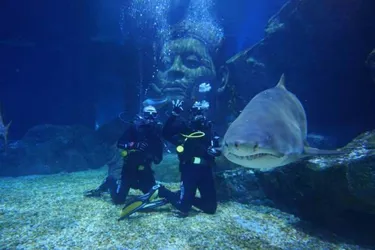 From awe-inspiring cultural monuments, culinary delights, dynamic markets and green spaces to the art scene and underwater life – here are 10 exceptional Bangkok experiences.
The Grand Palace
This is Thailand must-do. Experience the spiritual heart of the city by heading for the gold spires of this temple complex. It's where Buddhism meets the royals and is also home to the holy Emerald Buddha. A place of pilgrimage and a top tourist spot.
Terminal 21
Shoppers paradise found. Start at LG Caribbean for a feast, then go to Level G Rome to shop high-end clothes. Level M Paris houses all things body beautiful, while Level 1 Tokyo sports an incredible range of lady's attire. Level 2 London caters to the gentleman, and Level 3 Istanbul holds a mixed bag of items, from shoes to stuffed animals. Level 4 and 5 San Francisco has sweet treats galore while Top Floor Pier 21 Bangkok is home to one of Bangkok's best food courts.
Chatuchak Weekend Market
One of the world's biggest open-air markets Chatuchak, aka 'Jatujak,' is a market mecca. Visit before the heat of the day to look for clothing, accessories, vegetables, flowers and food. If you get lost, look up: the clock tower will keep you oriented. Find antiques, handicrafts, souvenirs, homewares and decor; sift through everything wearable, from used clothing to skate fashion. When you've worked up an appetite, find your fare.
Temple of Dawn
The iconic temple of Wat Arun is known for the way the gentle first light plays on its pearly surface. By the river, this structure houses the Emerald Buddha and flaunts some intricate features. See the ornate floral mosaics, brought to life from broken pieces of Chinese porcelain. Don't miss the mural depicting Prince Siddhartha's experience of the circle of life. Venture up the stairs of the 82m-high tower; the view from the top is worth the effort.
Wat Phra Chetuphon
The highlight of this compound is the resplendent Reclining Buddha. Covering 8 hectares, see the tourist sites, monastic centres and the national headquarters, dedicated to the continuation of traditional Thai medicine and massage. Donate a coin to Buddha, and remember to remove your shoes and dress respectfully. Admission includes a bottle of water which helps when the humidity hits.
Lumphini Park
Bangkok's largest green space covers 58 hectares. A lake, lawns, paths and big lizards make for a quality escape amidst this thriving metropolis. And the good news is, you don't need to leave town – this park is in the city centre. For fresh air, early morning or evening is best; before and after the heat of the day. People-watch as locals practise t'ai chi or float about in paddleboats.
Bangkok Art & Culture Centre
The contemporary arts are alive and well in Bangkok. This sizable, modish centre houses shops, galleries and cafes, as well as a library of art books. Over three floors are 3,000 sq metres of gallery space dedicated to supporting the creative process. Find out what exhibitions are on before you go.
Ancient City
If you're time-poor, this place is a great way to immerse in Thailand's history and culture. The complex is located in Samut Prakan province and is known as one of the world's largest open-air museums. Bike hire is included in admission, so hop on and explore this treasure via pedal power – minus the crowds. 
Visit a Floating Market
This is a quintessential Bangkok experience. It's a one-of-a-kind shopping trip; get in a gorgeous long-tailed boat and make your way down the waterways for souvenirs and all kinds of fare. Each of these floating markets has its charm: spend a unique afternoon at Amphawa, do the tourist thing at Damnoen Saduak, visit the central Taling Chan, experience a slice of the past at Khlong Lat Mayom or soak up the authenticity of Bang Phli.
SEA LIFE Bangkok Ocean World
In a city full of attractions, this is a stand-out. Family, as well as all-weather-friendly, discover the wonder of underwater creatures and learn all about their habitats, behaviours as you watch them in action. Choose from a host of extraordinary experiences, from a glass bottom boat tour to diving with sharks. See an array of animals, like the Giant Pacific Octopus to the little Clownfish, and find out about our Seahorse breeding programs.
Book Now