Visit the Jelly Invaders zone and prepare yourself as the mysterious lives of jellyfish are revealed in a totally new light! Be mesmerised by enchanting jellyfish as they dance around magical tanks, where multi-coloured spotlights emphasise their beauty and create a uniquely stunning experience.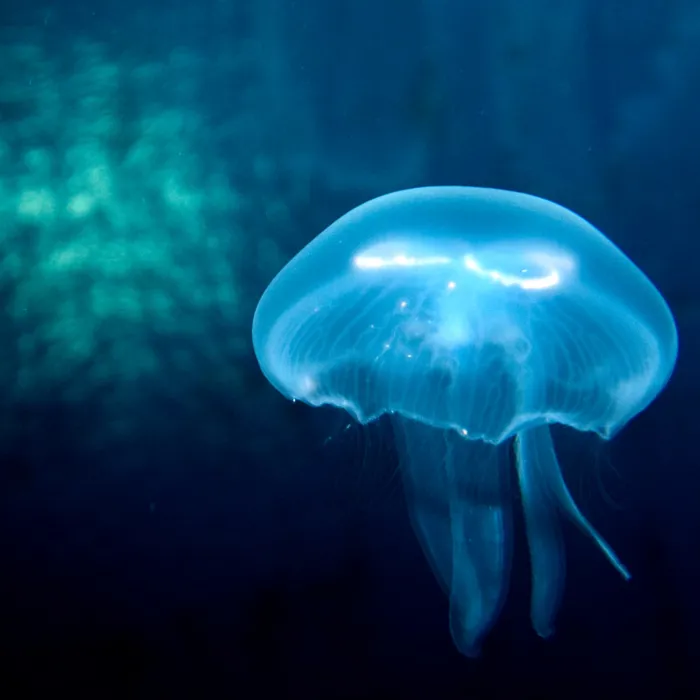 Moon Jellyfish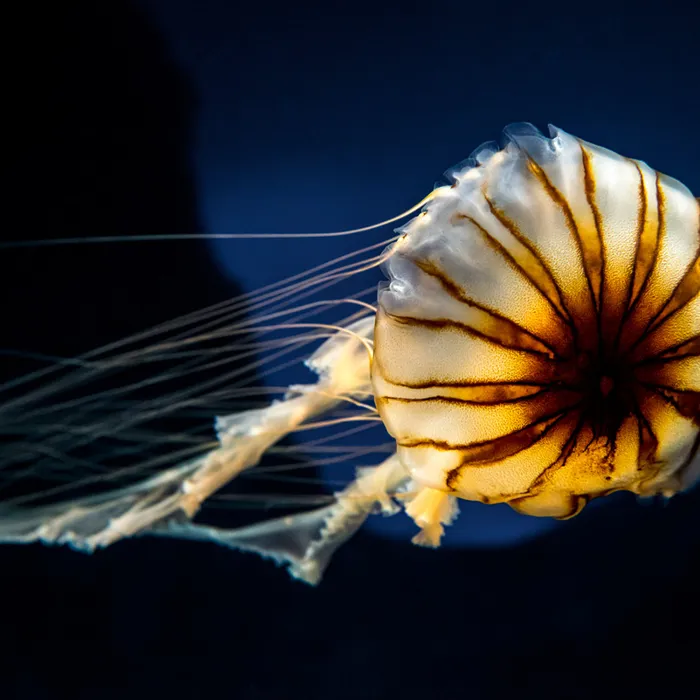 Sea Nettle Jellyfish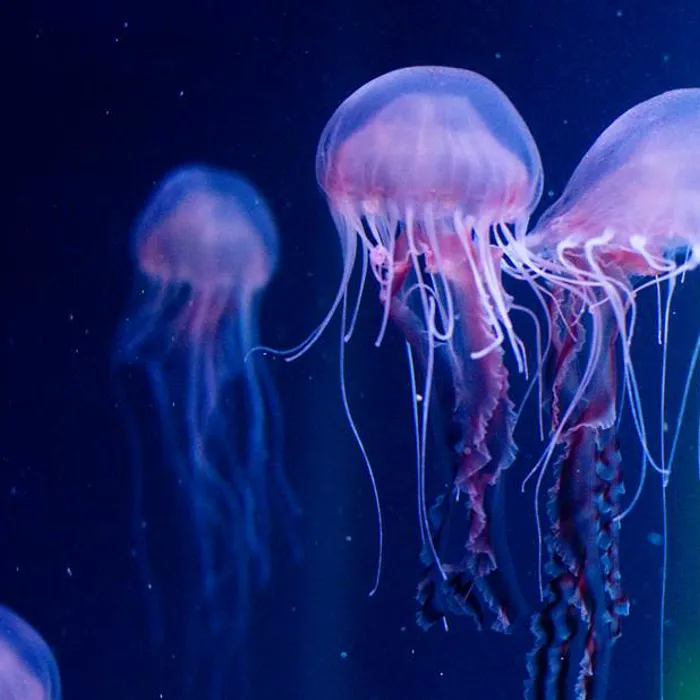 Sarlacc Jellyfish
Venture into the invasion
Dive in and witness these fascinating creatures up close in. Watch out for those stingers!
During your experience at Jelly Invaders, you can expect to see Moon Jellyfish, Sarlac Jellyfish, and Sea Nettle Jellyfish all year around
Marvel at their graceful gelatinous shapes bobbing through a glittering underwater wonderland. Uncover their mysterious abilities. Despite having no brains or bones, these dazzling creatures are resilient survivors, even outliving dinosaurs!
What jellyfish secrets will you uncover in the ocean's hidden depths?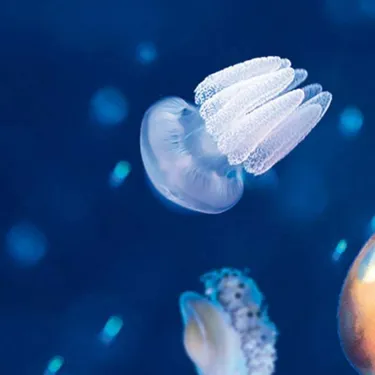 Life cycle Discovery
Follow the jellyfish life cycle through five clear stages of evolution, from a tiny baby polyp through to a fully grown jelly!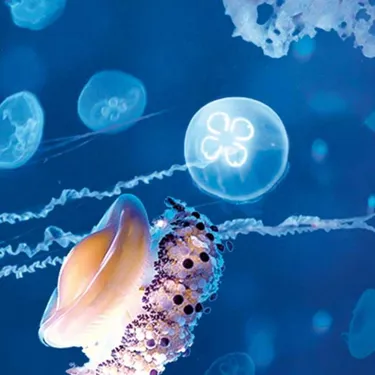 Jelly Explorer
Understand both the good and the bad about jellies; how and when do they take over the oceans? Do all jellies sting? Where do they live?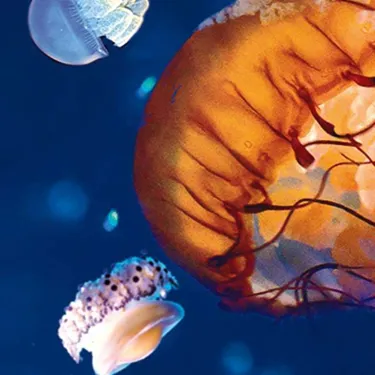 Mesmerising
Be spellbound by their pulsing movements. Check out those stingers!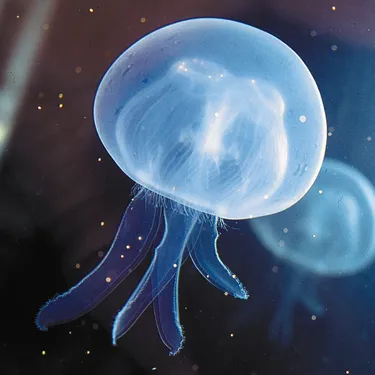 Ouch!
Jellyfish have venomous tentacles that they use to capture their prey. Some species of baby fish are able to hide amongst Jellyfish tentacles for protection!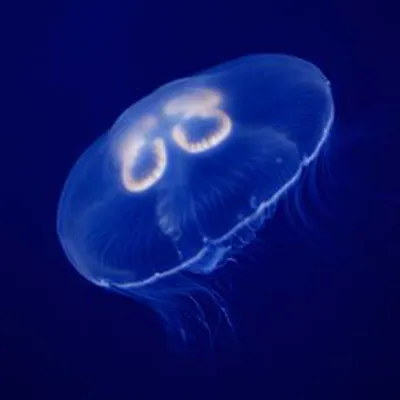 Moon Jellyfish - Aurelia Aurita
Moon Jellyfish are a common species of found all around the UK
They can withstand temperatures as low as 6 and as high as 31 degrees Celsius
Their sting is fairly mild
Turtles feed on Moon Jellyfish!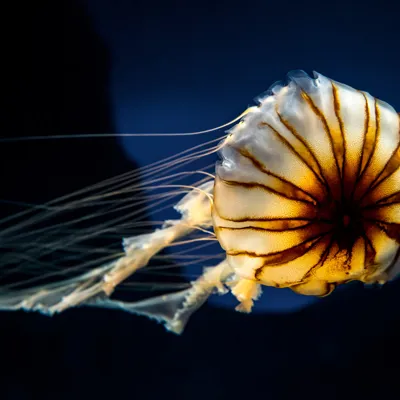 Sea Nettle Jellyfish - Chrysaora Melanaster
Sea Nettle Jellyfish have a sting that can cause skin irritation and a burning sensation
They are voracious carnivores, eating other jellyfish, copepods, anchovy eggs, larvae and zooplankton
Their tentacles can get up to 3 metres long!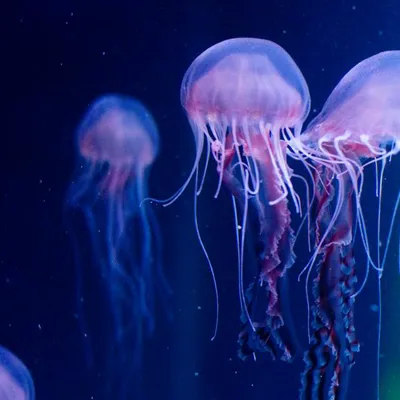 Sarlacc Jellyfish - Chrysaora Achlyos
Sarlacc Jellyfish can grow to huge proportions with a bell diameter of up to one metre and tentacles reaching a staggering five or six metres!

 

It is set apart from other jellyfish by its dark pigmentation and what's more, they're the largest invertebrates to have been discovered in the 20th Century