Sleep under the sea in this unforgettable experience!
When all the daytime staff have gone home for the night, and most of the lights are switched off, you can come and see what the creatures get up to when they think no one is watching!
With our Sleepover Experience, you'll have the opportunity to sleep inside our Ocean Tunnel with sharks, turtles and hundreds of species of fish swimming above you. You can also participate in a range of great aquarium activities without the daytime crowds. 
Our knowledgeable staff will give you a fully guided VIP tour of the aquarium, and you'll have the whole plaice to yourself!
Includes:
A VIP tour of the National SEA LIFE Centre Birmingham
Sleepover in the ocean tunnel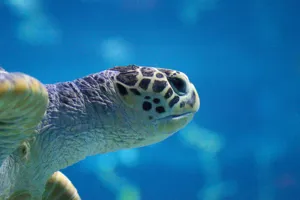 What's Included?
Arrive at the National SEA LIFE Centre at approximately 6.30pm
You will receive a safety briefing from our jaw-some team!
We do not offer catering at the National SEA LIFE Centre, but you're more than welcome to order in a takeaway!
Next on the agenda is your VIP tour of the aquarium, where you will get up close with our incredible sea creatures. Due to health and safety reasons, your group must have a member of the SEA LIFE team with you and you won't have free reign of the aquarium.
Prepare for bed at 9.30-10pm, with lights out at 11pm!
It's wake up time at 7am!
There are limited spaces available, so pre-booking is essential.
Participants must be at least 5 years of age.
Guests under 18 must be accompanied by a participating adult.
This experience is for a minimum of 40 guests, unless you pay the minimum fee of £2,000.
Please note, not all children may fit in the ocean tunnel. On average, we can fit 35-40 children in the tunnel. There is space around the tunnel for larger groups. For groups that surpass 80 guests, an extra area of the centre will also be opened as a sleeping zone if needed.
PLEASE NOTE ALL ALCOHOL IS STRICTLY PROHIBITED ON SITE.
The gift shop will be open from 8am for guests wanting to purchase souvenirs - this is contactless payments only. 
Price
£50 per child  (1 adult per 6 children complementary)
Minimum/Maximum Numbers
Minimum 40 children, maximum 120 in multiple areas. Minimum numbers don't need to be met if the minimum fee of £2,000 is paid.
How to book