SEA LIFE, Rescue Facility
Unlike most marine mammals, they don't have a layer of blubber...
...but they do have the thickest fur of all animals.
Here are some more otterly cute facts:
Thirteen different species of otter exist all around the world. Some are small river otters, and some are bigger sea otters
90% of all sea otters live on the coast of Alaska
They're hungry animals! Sea otters eat up to 30% of their body weight in food every day
Sea Otters are also clever creatures, they'll use rocks to crack open clams. They carry rocks and store food in the loose skin under their armpits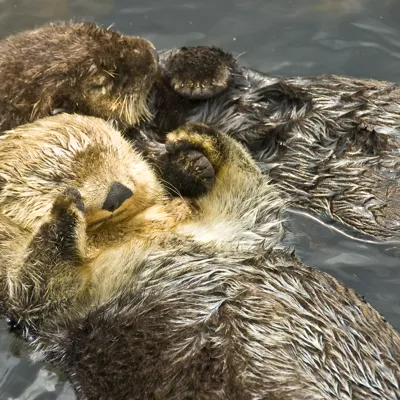 A UK's first - Sea Otters!
Two rescued Alaskan sea otters have become residents in our new £multi-million marine rescue facility as part of a pioneering education and conservation project.
After their epic journey from Alaska to Birmingham, the pair have been settling into their new home under the watchful eye of our Otter Care Team. After their time in quarantine, the cuddly pair are now ready to meet the public!
These endearing creatures
Are an important poster boy species for conservation and the escalating climate crisis. The hope is for the pair to become ambassadors for not only their species but also their wild cousins. We'll be showing guests how we can all contribute to conserving their environment - one paw at a time.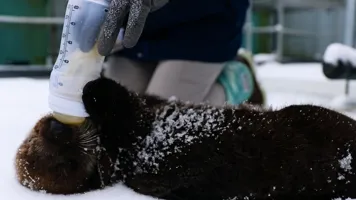 Watch Ozzy and Ola's Journey
Following a two-and-a-half-year gruelling guardianship application, the financing of care and major investment in a brand new purpose-built facility over in the United Kingdom to meet strict animal welfare requirements, the United States Fishing & Wildlife Service (USFWS) have granted a permit and SEA LIFE Centre Birmingham have welcomed the very first pair of sea otters to the UK in 2020.