Sharklife
20th May - 4th June 2023
Tickets from £19 (Included with SEA LIFE admission)
Perfect for families with younger children
Join us for a jaw-some experience, learning the truth about these fin-tastic creatures! Get up close and personal with our sharks at the National SEA LIFE Centre in Birmingham in the UK's only 360-degree ocean tunnel.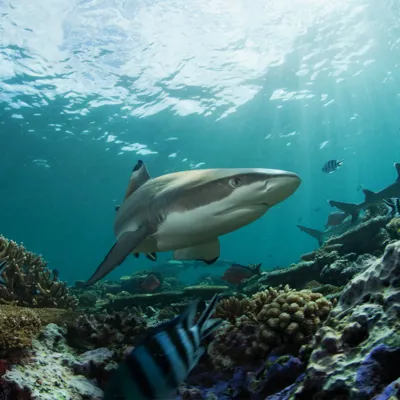 Enjoy a jaw-some day out!
Dive into an underwater adventure to learn all about this fin-tastic species!
Learn the truth about sharks and discover the truth about this commonly feared creature. See our Black Tip Reef Sharks up close in our 360-degree ocean tunnel!
Activities include:
Meet the marine biologist
Search for shark teeth
Pick up a Sharklife trail card for your aquarium adventure
Competitions - you could win a VIP Shark Feed at the National SEA LIFE Centre in Birmingham!
Fun Facts:
Did you know there are over 500 species of shark? 143 of these are under threat, ranging from vulnerable to critically endangered.
Most sharks are cold-blooded
Sharks are apex predators - Many have several rows of teeth and can lose and replace thousands of teeth in their lifetimes. As predators, sharks play a vital role in the health of marine ecosystems - by eating fish they help create balance in the food chain.
We even get sharks around the UK! The basking shark is Britain's largest fish (and the second largest in the world). It can grow up to 11 metres long and weigh up to 7 tonnes - about the size and weight of a double-decker bus.
Sharks have been around for about 400 million years - long before dinosaurs!