Say hello to Santa on screen and make magical memories with your little ones this festive season without having to leave the house! Now the whole family can dive into a personalised virtual meet and greet with the main man himself, direct from his snowy grotto in our very own Lapland, all in one enchanting experience.
20th November - 24th December 2021
£15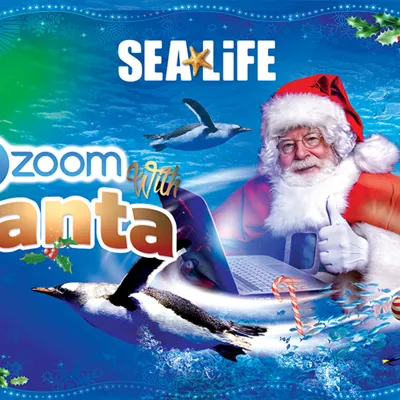 Virtual Santa Meet & Greet
Spot Santa, complete with a gigantic white beard and twinkling spectacles, in his cosy home amongst glistening lights and snow-capped mountains.
Perfect for those looking for a safe, socially distanced meet and greet with Santa, little ones can ask him questions and tell him what they'd like for Christmas, all from the comfort of your very own home.
Plus get the chance to say hello to SEA LIFE's cheeky penguins on-screen and meet Binky Tinselsmith, Santa's elf helper, before Zooming in and meeting Santa himself!
Remember you can dial in with the whole family, parents, grandparents and pets alike, but make sure you leave enough time for each child to speak to Santa!
If you'd like to keep your magical memory forever then don't forget to add the Santa experience download to your basket and we'll send you a video of your call.*
*Santa experience downloads are an additional cost of £5 per download.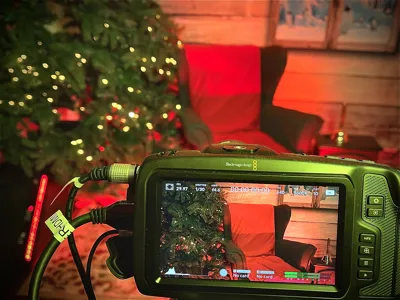 Pre-book in advance
As this is a live chat, all Santa calls must be booked in advance as Santa's schedule is getting busy – he's still got lots to do before Christmas!
FAQs
Your experience will last approximately 10 minutes, and this includes a video call of approx. 5 minutes. This will really depend on how chatty the children are with Santa.
Your video call can include the entire household! Please do be aware that the duration of the call will remain the same regardless of how many children are on the call. 
To ensure you make the most of your time with Santa, children must be supervised at all times during the call.
Santa has some of the most clever elves, who have tested the experience robustly. All you need is a reliable internet connection. If for any reason, there is a technical fault, our helpful team will coordinate with you to re-arrange your call. You will be provided with a telephone number to contact if there are any issues during your call.
You can purchase the video with Santa at the time of your booking. Our helpful team will send your video call to you following the experience.
No! If SEA LIFE is closed, the experience will still go ahead.