Want to adopt your very own seahorse?
By adopting one of our seahorses for yourself or a friend, you will be making a real conservation difference - helping to secure the future of our local marine creatures and support the continuation of the program into future years. Your one-off adoption payment will last 12 months.
Your virtual adoption pack includes:
Animal adoption certificate
Option to name your adopted Seahorse
Acknowledgement of adoption support on our website and our in-attraction wall of fame!
Future updates on the White's seahorse breeding program and other SEA LIFE Trust initiatives
Contribution to the SEA LIFE Trust
2023 is the fourth year of our seahorse breed and release program. A world-first conservation project to help an endangered species which is endemic in Sydney Harbour. This year we'll be releasing over 700 seahorse fry back into the wild, our biggest-ever release!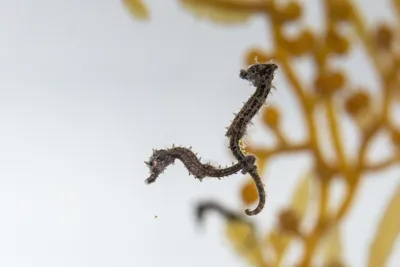 Already adopted a seahorse? Find its name below!
| | |
| --- | --- |
| Purchaser name | Seahorse name |
| Richard D | Baxter |
| Sean R | Smudge |
| Paloma, Aude & Wren L | Popcorn |
| Diana A | Dee Dee's Gee Gee |
| Leilani T | Stella the Rocking Seahorse |
| Benjamin B | Atlas |
| Emma C | Scarlett |
| Jett C | Jett |
| Lucy R | Miss Rachael |
| Kathryn P | Debbie |
| Oscar H | Oscar Seahorse |
| Lottie H | Lottie Seahorse |
| P Braithwaite | Parker |
| Sophie G | Bob Brown |
| Timm W | Georgie |
| Susan K | Trillian |
| Sue S | Zoda |
| The Ryan Family | Simon |
| Jackie T | Garfunkal |
| Vicky D | Sparkles |
| Carol D | Viatek |
| Vanessa W | Hippocampus |
| Trina H | Doris |
| Philippa C | Sophie |
| Josiah S | Toulouse |
| George J | Sonic the Flash |
| Kathryn P | Tatiana |
| Craig L  | Almaxo |
| Kona K | Senshi |
| Elka M | Smelka |
| Harriet S | Sidney |
| Vicki L | Vicki the Seahorse |
| Russell C | Njord |
| Isabelle S | Greggy |
| Bella G | Felix Gavidi |
| Bailey C | Speedy the Seahorse |
| Beau H | Nibbles |
| Bundoora Vet Clinic | B.V.Sea |
| Sharrone Conway | Sharrona |
| Loukas M | Ziggy |
| Lindy L | Clarabella |
| Catriona W | Galaxy |