SHARK DIVE XTREME
RETURNS DECEMBER 18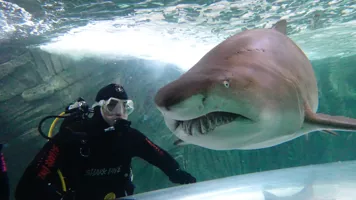 Take the Plunge...
Sydney's most exhilarating experience is back this summer! 
Get your adrenaline pumping and take the plunge in one of the most thrilling animal encounters in Australia. Shark Dive Xtreme is a rare opportunity to get closer than ever to our incredible Grey Nurse Sharks, Port Jackson Sharks, Wobbegong Sharks, as well as giant Stingrays, and many more amazing sea creatures... all without a cage! 
Never scuba-dived before?
No problem! Shark Dive Xtreme is suitable for first time divers with no previous diving experience required. This experience is suitable for ages 14+ and a reasonable degree of swimming ability is required to participate. Please ensure you check the restrictions and medical requirements on the SEA LIFE website prior to booking.  
Shark Dive Xtreme runs on selected dates, with two timeslots available to choose from. Each timeslot can accommodate up to 8 people, with two dive groups and a maximum of 4 people per dive group – so pre-booking is essential.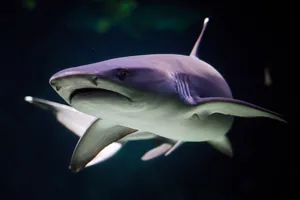 What's included?
AGES 14+
Introduction to scuba diving, briefing and training session (approx. 90 minutes)
30 minute dive face-to-face with sharks, giant stingrays and more in Shark Valley
All dive equipment & wetsuit
'I dived and survived' Shark Dive Xtreme certificate
All day admission to explore SEA LIFE Sydney Aquarium
Book this experience for a specific date now or purchase an shark diving gift voucher.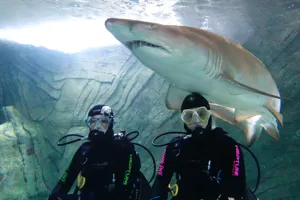 Medical Requirements
Scuba Diving is physically demanding and can be dangerous if you suffer from certain medical conditions. It is very important that you, the diver, do not suffer from any contraindications to diving.
Please carefully read the below list of medical conditions that may prohibit you from taking part in the Shark Dive for your own safety.
Asthma
Heart Disease
Epilepsy
Diabetes
Chest Conditions including Pneumothorax
Sinus Conditions
Ear problems/surgery
High blood pressure
Pregnancy (pregnant women are not permitted to dive)
If you suffer from or have suffered from any of the above medical conditions OR If you suffer from any other medical conditions, including recent injuries, surgeries or psychological conditions then you will be required to obtain a fully completed medical clearance from A QUALIFIED DIVE DOCTOR prior to booking in for the dive.
Please make sure you read and complete our medical form before booking here.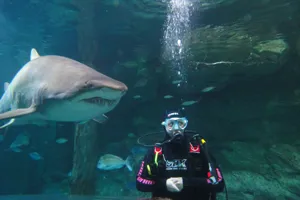 Important Information
Before booking your Shark Dive please take note of the following restrictions: 
DO NOT DRINK ALCOHOL THE NIGHT BEFORE YOUR DIVE.
DO NOT FLY IN AN AIRCRAFT WITHIN 12 HOURS AFTER YOUR DIVE.
YOU MUST HAVE A REASONABLE DEGREE OF SWIMMING ABILITY.
Read Shark Dive Xtreme terms and conditions here.
Was the best experience would recommend it to anyone the sharks were so magical and peaceful had a awesome time!!
Everything is unreal, the animals are breathtaking and the divers really know their stuff! 10/10
Got this experience as a gift for Father's Day. I cannot recommend doing this enough. It's a definite must do.
FAQs
This is an intimate experience with only 8 people per dive so sessions often book out in advance. To avoid missing out, we recommend booking online.
You must be 14 years or older for our Shark Dive Xtreme. Children under 18 must be accompanied by a parent or guardian.
Yes you can! Head to our Merlin Annual Pass page to purchase a discounted Shark Dive Xtreme. It's a special price just for pass holders.
To book a date for your experience with a gift voucher, please click here to pre-book your timeslot. You must ensure you select the number of people you have a gift voucher for, and remember to bring your vouchers with you to be scanned on arrival. 
Any Shark Dive Xtreme vouchers purchased after the 1st of November 2019 are valid for 3 years, inline with Australian Consumer Law. If your Shark Dive Xtreme voucher was purchased between the 1st of November 2019-23rd March 2020, this will be valid until December 31st 2023. 
If you have a Shark Dive Xtreme gift voucher purchased between 23rd-31st October 2019, this will be valid until Mard 23rd 2023. 
Any unused Shark Dive Xtreme gift vouchers purchased on or before 22nd October 2019 will hve expired and are no longer redeemable. 
You can find your order details using your email address and phone number using the order look up tool here
Please click here to pre-book your timeslot. You must ensure you select the number of people you have a gift voucher for, and remember to bring your vouchers with you to be scanned on arrival. 
If you purchased a Shark Dive Xtreme experience for after 23rd March 2020 and it was cancelled due to COVID-19 closures then you will be able to rebook this, as long as you didn't have your tickets previously refunded. 
If you would like to check your booking validity, please email your proof of purchase/e-tickets to DH.POS@merlinentertainments.com.au
Please click here to pre-book your timeslot. You must ensure you select the number of people you have a gift voucher for, and remember to bring your vouchers with you to be scanned on arrival. 
For any enquiries regarding your booking please email our SDX bookings officer at DH.POS@merlinentertainnments.com.au
NORMAL BUSINESS HOURS:
8:30 am – 04:30 pm  (Monday-Friday)
Guests will need to bring the following for their dive:
Swimming costume/swimmers
Enclosed footwear
A Towel
Toiletries (you are welcome to use our showers after your dive)
No, but friends and family can take photos through the viewing tunnel. You also have the option of purchasing underwater souvenir photos or video footage after your dive.
Friends and family can watch from the safety of the viewing tunnel and wave, blow kisses and take photographs. Friends and family get a 25% off admission (up to 4 people per diver) to SEA LIFE Sydney to watch you dive. When you purchase your Shark Dive Xtreme ticket, you will have the opportunity to purchase the discounted spectator ticket before you confirm your purchase.