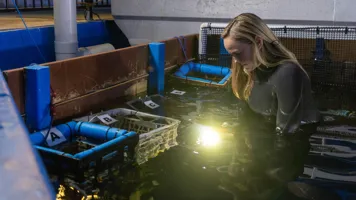 A world-first shark breeding project
From SEA LIFE Sydney Aquarium in Darling Harbour to Indonesia. 
The StAR Project - ReShark and SEA LIFE Sydney's breeding program for endangered zebra sharks
A recovery project to help zebra sharks as an endangered species
The conservation initiative – called the 'StAR Project' (Stegostoma tigrinum Augmenation Recovery Project) is a multi-national, collaborative initiative led by ReShark which aims to establish genetically diverse, self-sustaining populations of zebra sharks in the Indo-West Pacific, to benefit local populations and support healthy marine ecosystems.
SEA LIFE Sydney Aquarium has been involved with StAR for several years, and as a project partner, has:
- Contributed valuable breeding, egg and pup data about ex-situ populations
- Worked in the husbandry working group creating husbandry manuals for shark, egg and pup care
- Established shipping and handling techniques for transport of the eggs
- Provided viable eggs to the StAR hatcheries in Raja Ampat
Laura Simmons - Regional Curator for SEA LIFE Australia/New Zealand, said "Bringing our team and animals into the StAR project, and being able to contribute to shark conservation in a meaningful way has been a dream come true. This is part of the "WHY" behind what we do every day! A recovery effort of this kind would not be possible without the successful husbandry, welfare and breeding expertise established at public aquaria like SEA LIFE."
Due to their slow population growth rates, marine conservation actions such as increased fishing regulations and the establishment of marine protected areas have not proven sufficient for securing the species' future. Augmentation with aquarium-bred zebra sharks is critical to re-establish the wild populations.
SEA LIFE Sydney Aquarium became a "Breeder Institution", once its population of three adult zebra sharks (one male and two females) was identified as genetically suitable to support the newly established breed-for-release recovery program.
''Currently, we are one of two aquariums to have sent viable eggs to the StAR hatcheries. It's an honour, and incredibly humbling, to be able to provide our animals to the people of West Papua and to bring this species back to such an amazing part of the world,'' commented Laura.
Following a lengthy and rigorous permitting and governmental approval process, in August 2022, the founder eggs from SEA LIFE Sydney Aquarium, accompanied by Laura, embarked on an epic, multi-day transit, traveling more than 4200 kms. This was the first export of eggs for the StAR Project and a world first for a shark species recovery program.
"We're delighted to know that the very first shark pups hatched in Raja Ampat came from eggs laid here in Sydney and were released in early January. This exciting milestone is a culmination of many years of hard work and planning to ensure a future for zebra sharks in the wild.
"We will continue working with our project partners to support this important recovery initiative through our breeding program and by inspiring our guests to protect the ocean and its inhabitants. We are hopeful that the continued success of the StAR Project can pave the way for the recovery of shark populations globally.", concluded Laura Simmons.