Penguin Expedition
A world first penguin experience
Boat Ride Temporarily Unavailable
In line with the latest announcements from the Australian Federal Government with regard to Covid-19 and capacity management & hygiene control, the Penguin Boat Ride Experience is not available until further notice. However you are still able to view our penguin colony from our normal viewing windows.
The safety and wellbeing of our guests and staff is our priority and we will take all necessary precautions to ensure their continued welfare. We apologise for any inconvenience caused. ​
A world first penguin experience!
Journey through our stunning Macquarie Island themed exhibit on the Penguin Expedition boat ride.
Time: Ride between 11:00am - 4:00pm
Capacity: Max. 6 people per boat
NOTHING EXTRA TO PAY!
Penguin Expedition is included on all tickets and passes for SEA LIFE Sydney Aquarium, including multi-attraction passes and annual passes.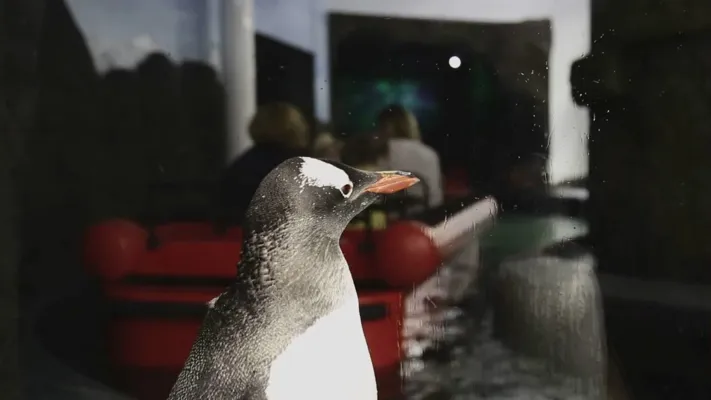 Hop Aboard!
Penguin Expedition is the world first-of-its-kind penguin exhibit raft ride where you can get up close and personal to a spectacular colony of King and Gentoo Penguins at SEA LIFE Sydney Aquarium.
This immersive ride-through adventure is a continuous chain of boats, each with a capacity of 6 guests, that carries guests on a journey along a river and through the heart of our penguin colony. Watch from just metres away as they interact, slide across the ice and dive into the water!
Penguin Expedition creates an explorer out of each and every guest as they travel in a raft through a rugged sub-Antarctic environment, through flurries of snow, at a cool-but-comfortable six degrees Celsius.
BUY TICKETS ONLINE & SAVE!
Inspired by Macquarie Island
Macquarie Island is a UNESCO World Heritage Site that lies in the south-west Pacific Ocean, about halfway between New Zealand and Antarctica. It's home to many species including the King and Gentoo Penguins.
Our Penguin Expedition voyage takes you face-to-flipper in an awe-inspiring recreation of our King and Gentoo penguins' home, including magical flurries of snow, whistling winds and the stunning southern lights.
This amazing new discovery aims to educate guests by highlighting the impacts of plastic pollution and habitat destruction affecting these majestic birds.
Amazing discoveries await after disembarking thanks to the researchers at the Macquarie Island Explorer Hut. Guests will find out about SEA LIFE Sydney Aquarium's penguin breeding program and what they can do to help conserve Macquarie Island.
FAQS
Yes! Penguin Expedition is included with all SEA LIFE Sydney tickets.
To protect the health and safety of our guests, there are a few rules and height restrictions that apply for the Penguin Expedition boat ride:
Children under 90cm must be seated next to a responsible adult
Children over 90cm but under 120cm must be seated next to or in the row immediately in front of a responsible adult
Children over 120cm are free to ride without adult supervision
We have multiple boats at Penguin Expedition and each boat can sit up to 6 guests.
To meet our sub-Antarctic penguins, guests will be transported by boat through a cool yet comfortable six degrees Celsius. We did say that this was an immersive experience!
The approximate depth of the water is 42cm.
Due to the nature of the ride, the Penguin Expedition boat ride itself is not accessible for wheelchairs.
However, guests can still view our spectacular penguins from the large viewing windows surrounding the display!
The boat ride through the sub-Antarctic to meet our majestic birds takes approximately 2 minutes from start to finish. 
No, guests who do not wish to go on the boat ride can still view our majestic birds from the large viewing windows surrounding the display!
If you're keen to get even closer to our penguin colony, find out about our on-the-ice penguin encounter experience, Penguin Passport.
**PLEASE NOTE - Every effort is made to limit our penguin expedition ride closures. However, the boat ride may be closed during your visit due to unforeseen maintenance issues which will exclude the viewing area of the penguins.
The safety of both our animals and our guests are our number one priority.