Rescue, Rehabilitate & Release
SEA LIFE Sydney Aquarium's team of experts are on call 24 hours, every day of the year to help rescue marine animals in need.
SEA LIFE's Rescue Centre has the approved permits to rescue marine animals from all of NSW and a dedicated team of experienced curators and aquarists who will rehabilitate and nurse the patients back to health before releasing them back into the wild.
After the closure of Manly SEA LIFE Sanctuary in 2018, SEA LIFE Sydney Aquarium opened the Animal Rescue Centre where the team have rescued, rehabilitated and released many sea turtles and sea snakes since its opening. 
Our Recent Rescues
3 Turtles Released
This April we proudly released three, now healthy, juvenile turtles, Avalon the Hawksbill Sea Turtle and Warnie and Cuttler, two Loggerhead Turtles, back into the ocean, at Zenith Beach, Port Stephens, NSW.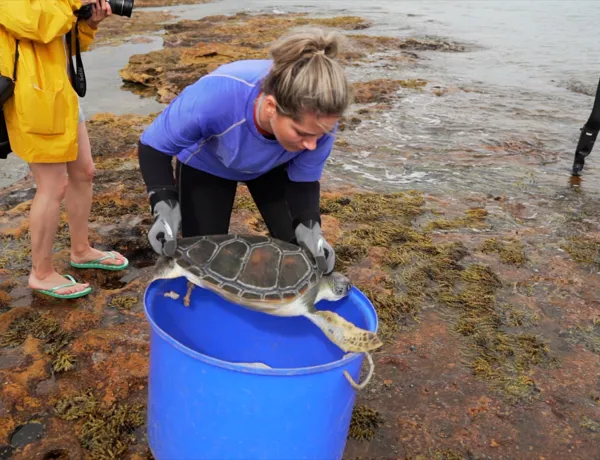 Successful Turtle Release
After nearly doubling her weight during rehabilitation, Lizzie, as she was affectionately named by her rescuers, received the final "healthy and fit for release" approvals from her veterinarian. With permissions from NSW National Parks and Wildlife Service, the aquarium's rescue team has returned her to Sutherland Point, Kurnell, the location from which she was rescued.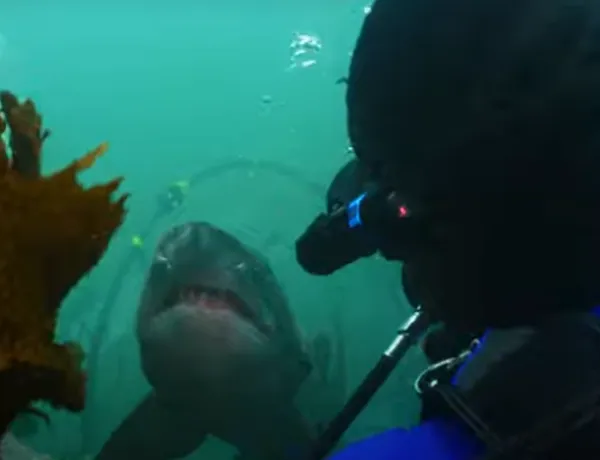 Hooks removed from Grey Nurse Shark
The SEA LIFE team were advised by a member of the public who spotted the juvenile, female shark with the offending hooks in the bay. Despite difficult conditions, the team eventually managed to herd the shark into a custom made sock and it took the Aquarium's resident vet, Dr Michael Cannon just one minute to remove the potentially deadly hooks. "After the rescue, we administered the shark with antibiotics and vitamins before she swam off beautifully and healthily into the ocean."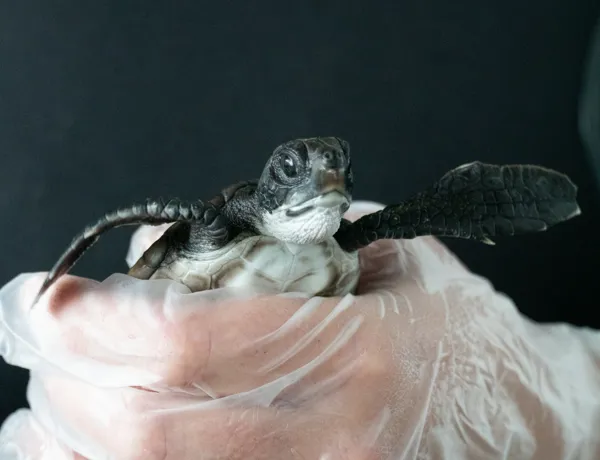 Baby Sea Turtle Rescue
Our team received a call from a local family who had spotted a small baby turtle washed up on Maroubra beach. Following the wild weather over the last few weeks, many baby sea turtles were left stranded around Sydney. Thanks to the call from the Jones family, our team were able to take the turtle back to our animal rescue centre and give it the care required. The small turtle is now currently on the road to recovery and will be released back into the ocean soon!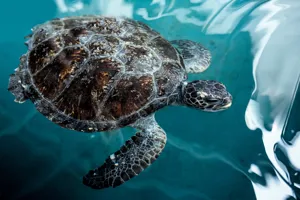 Found an injured sea creature?
SEA LIFE Sydney are always ready to assist with orphaned or injured turtles, sharks, rays or other fish. please fill out the form below if you have witnessed:
Sea Turtle or Sea Snake that has been found ashore
Marine animal trapped in netted/enclosed swimming area.
If you observe a wild marine animal that you think is in distress we recommend you contact our team or WIRES immediately to report it and get professional support rather than attempting to approach or handle the animal by yourself. 
If the case is urgent please follow up the report form with a phone call: 0402 783 455
Alternatively, send us a message on Facebook
Fill out report form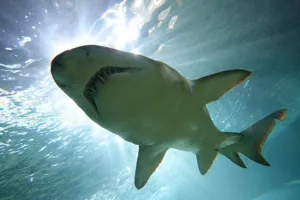 Rescue Poster
Download our animal rescue poster to put up in your home, office or school to ensure you always have the tools to assist in the rescue and rehabilitation of local marine species. 
Download now