Rescue, Rehabilitate & Release
SEA LIFE Sydney Aquarium's team of experts are on call 24 hours, every day of the year to help rescue marine animals in need.
SEA LIFE's Rescue Centre has the approved permits to rescue marine animals from all of NSW and a dedicated team of experienced curators and aquarists who will rehabilitate and nurse the patients back to health before releasing them back into the wild.
After the closure of Manly SEA LIFE Sanctuary in 2018, SEA LIFE Sydney Aquarium opened the Animal Rescue Centre where the team have rescued, rehabilitated and released many sea turtles and sea snakes since its opening. 
Our Rescues
Matilda the Green Sea Turtle
We received a call from a member of the public who advised us that a Green Sea Turtle was found struggling in Dolans Bay, Port Hacking (NSW). The female turtle was underweight, suffering from buoyancy issues and covered in barnacles. After caring for her for 2 weeks she passed plastic. She has ingested over 1m of fishing line and a candy wrapper. After 2 months of care, gaining 4kgs and receiving approval from the vet, our team were able to transported the turtle by boat to deeper waters, a few kilometres from Maroubra Beach and release her back into the wild.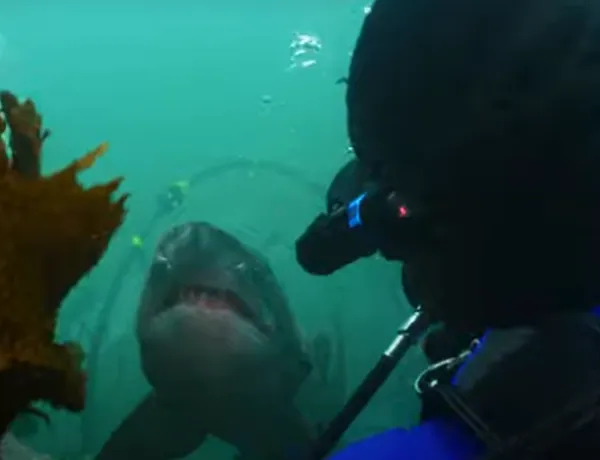 Hooks removed from Grey Nurse Shark
The SEA LIFE team were advised by a member of the public who spotted the juvenile, female shark with the offending hooks in the bay. Despite difficult conditions, the team eventually managed to herd the shark into a custom made sock and it took the Aquarium's resident vet, Dr Michael Cannon just one minute to remove the potentially deadly hooks. "After the rescue, we administered the shark with antibiotics and vitamins before she swam off beautifully and healthily into the ocean."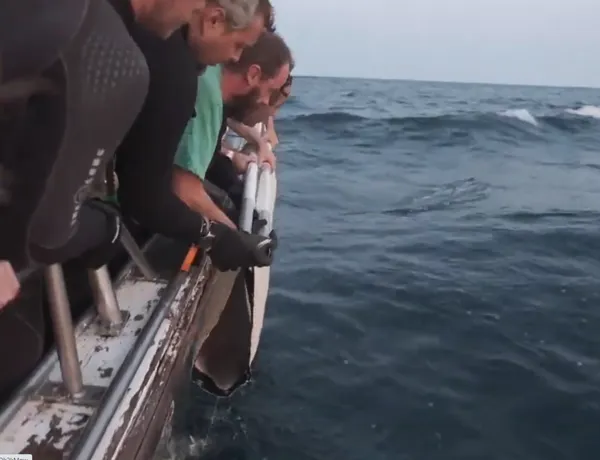 Shark relocation
A critically endangered Grey Nurse Shark had become trapped in Lake Conjola after water levels had dropped. Concerned for the shark's welfare the SEA LIFE team in partnership with NSW DPI planned a relocation of the large shark. "I'm absolutely delighted by the result of the rescue and relocation this week. After months of planning, it was incredibly rewarding to successfully transport the shark in our custom-made shark transport tank and then watch the shark as she safely swam into the waters off Ulladulla."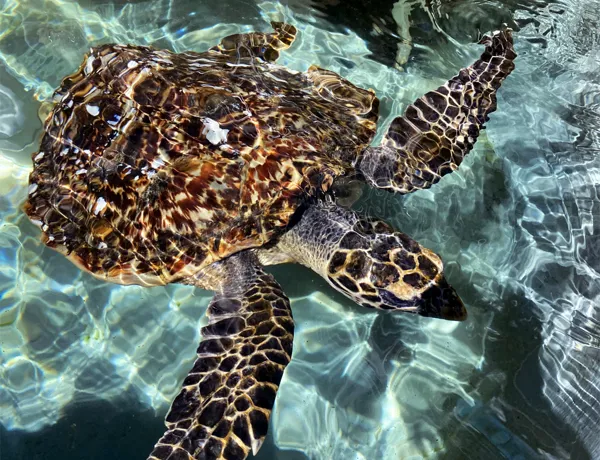 Avalon the Hawksbill Turtle
Our team received a call from a member of the public who had spotted a sick Hawksbill Turtle on Avalon Beach last November. The turtle was barely responsive, underweight and covered in barnacles. She was taken back to our animal rescue centre where she received intimidate care from our veterinary team. Fortunately, she is now on the road to recovery receiving regular health checks from our team. Avalon is still currently in our care as she continues to put weight back on and grow stronger. We aim to release her later this year.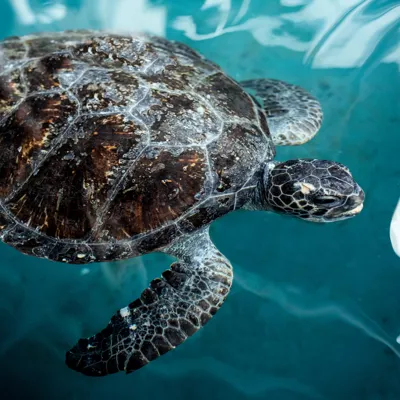 Found an injured sea creature?
If you find a sick, injured or orphaned turtle, shark, ray or other fish please contact our team as soon as possible. 
Fill out our rescue form or call our team on 0402 783 455
Fill out report form