Your feel-good story for the week: Lizzie the Green Sea Turtle has been released back into the wild!
Friday 11th February 2022
Turtles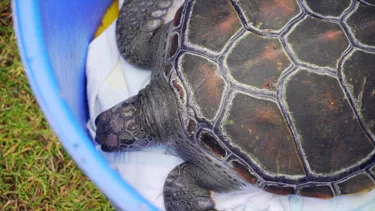 After nearly doubling her weight during rehabilitation, Lizzie, as she was affectionately named by her rescuers, received the final "healthy and fit for release" approvals from her veterinarian. With permissions from NSW National Parks and Wildlife Service, the aquarium's rescue team has returned her to Sutherland Point, Kurnell, the location from which she was rescued.
Lizzie arrived as a patient at SEA LIFE Sydney Aquarium's Animal Rescue Centre last September after volunteer divers from Australian Sea Bird Rescue and Abyss Scuba Diving responded to multiple sightings of an unwell green sea turtle. They found her lethargic, dehydrated, covered in barnacles and with a slightly sunken plastron (bottom side of the shell).
She received a full medical evaluation by the vet team and due to her poor condition and being underweight, SEA LIFE Sydney's Rehab Team immediately started treatment by providing fluids, assisting her with feeding and giving nutrition supplements every day. Within a few weeks of this intensive care, she began eating on her own, allowing her to put on weight and grow stronger.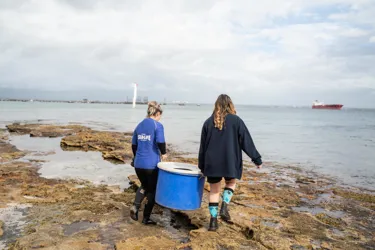 Cathleen Diamond, Vet Nurse at SEA LIFE Sydney Aquarium, said "Today was a very rewarding day for us. After caring for Lizzie for over four months, we have seen her make a full recovery.  Her health has improved so significantly that we could release this beautiful green sea turtle back into the ocean.
"We are always so excited when we can assist an animal back to health, but it's also a little bittersweet to see her go because we've grown so fond of Lizzie. It is incredible to see her strong, active and swimming well; we can't wait to see her thrive in the wild again."
Based on Lizzie's shell size, she is still considered to be young, around 5-10 years old. Green sea turtles are known to live 70-80 years, with females reaching sexual maturity between 25-50 years of age, so as staff released Lizzie back into the ocean, they joined locals in wishing her a long and fruitful life.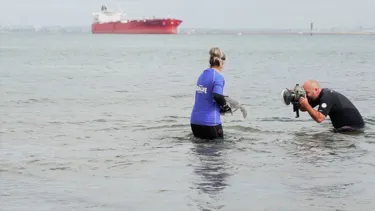 Many green sea turtles and their relatives need rescuing due to the devastating impacts of plastic pollution since they can mistake these plastics as their food.
Fortunately, Lizzie did not fall victim to marine plastics, but it's a timely reminder to help aquatic wildlife by reducing single-use plastic and helping prevent rubbish from entering the ocean by keeping our beaches clean!
What should members of the public do if they come across sick or injured marine life?
For all Turtles, sea snakes, sharks, rays, and other fish they can call SEA LIFE Sydney Aquarium's Animal Rescue Team at 0402 783 455.  Always leave the handling and care of these animals to the professionals!
If you find a sick, injured, or orphaned native animal, call 13 000 WIRES or 1300 094 737
Find out more