6 Sydney Adventure Activities for Little & Big Kids
Saturday 12th October 2019
Sydney, Family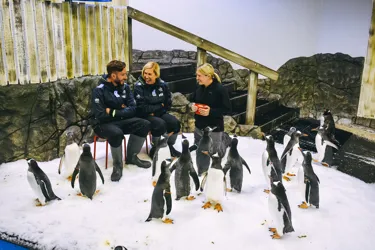 Fancy a swim with sharks or a snow expedition? Whether you're young, or young at heart – don't miss these five adventure activities right in the heart of Sydney.
Be an Ancient Adventurer
Discover evolution, and where life began at Jurassic Seas, SEA LIFE Sydney Aquarium. Little and big kids alike will be fascinated by strange living fossils and mysterious octopuses. The Common Sydney Octopus has tentacles up to 2 metres long and is considered to be one of the smartest animals found in any aquarium. Learn about their incredible defence mechanisms like their ability to engage quick bursts of speed, camouflage, and even amputate their limbs. Super cool!
Get on The Ice
A once-in-a-lifetime opportunity awaits with your Penguin Passport at SEA LIFE Sydney. Suited up in snow gear, this 75-minute tour takes you on a sub-Antarctic expedition to get to know the mischievous personalities of the resident King and Gentoo penguins. Snow? Indoor? This exciting exhibit uses state-of-the-art technology to maintain its freezing temperatures. This experience is for bigger kids aged 14+. Spots fill quickly, so be sure to book your penguin encounter, to avoid missing out.
All Aboard the Penguin Boat Ride
The good news is, little ones don't have to miss out on the freezing fun! If your pint-sized penguin-lover is at least 90cm tall, they can join the Penguin Expedition. It's an immersive, first-of-its-kind raft ride in the world. The whole family can journey along a river through the heart of SEA LIFE Sydney's penguin colony. See these brilliant black and white birds as they slip, slide and dive; so close, you can almost touch them! Did we mention this ride is included in your admission?
Touch Creepy-Sea-Crawlies
Find precious rockpool marine life at SEA LIFE Sydney: spongy sea cucumbers, spirally Port Jackson Shark eggs and bumpy sea stars. The kids will learn the importance of approaching and handling animals with love and care. These are valuable adventure skills worth taking to the outside world. There's even a map highlighting the top rockpools throughout New South Wales.
Swim with Sharks
Shark Dive Xtreme at SEA LIFE Sydney is one of only a handful of experiences, worldwide, where you're guaranteed a cageless encounter with sharks. This underwater adventure will get you up close to these apex predators; see them in their 3.2-metre splendour at SEA LIFE Sydney. Now that's the adventurous spirit! And don't worry, you're in good hands – it's completely safe! Sharks are one of the most misunderstood animals on the planet; learn all about these genuinely magical creatures. If you're 14+, book this experience and put the date in your calendar.
Take a Shark-Walk
Adventurous kids who aren't yet 14, can still take an exhilarating walk through Shark Valley. It's home to some of the world's biggest aquarium sharks, like the Grey Nurse Shark.
See the Great Barrier Reef
You don't need to fly the family to Queensland to see this aquatic wonder! For surprise and delight, explore the world-famous reef; watch as innovative technology transitions the exhibit across 24 hours of the day. SEA LIFE Sydney's Day and Night on The Reef is the largest Great Barrier Reef exhibit in the world.