Go green this Christmas
Wednesday 18th December 2019
Sustainability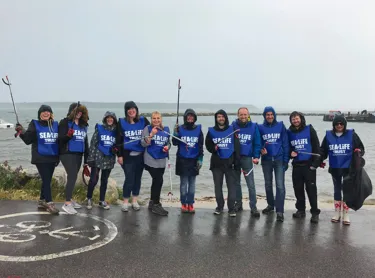 Christmas is a wonderful time of year, but beyond all the commercialism and 'stuff,' is the real gift. Time together is better than any 'thing,' so instead of adding to the toy pile with the latest must-have, teach your kids to go green this yuletide. Considered gifts with less footprint, means this can be a festive season for you and the planet.
The Gift of Experiences
Precious possessions with meaning or sentimentality are great – but even better is giving an experience, to build memories together. By doing something with each other, you're not contributing to the accumulation of material things. Spend a moment to think outside the square; match the experience to your loved one – your gift will knock their socks off and let them know you care. 
The Gift of Conservation
Take the whole family to see underwater wonders at SEA LIFE Sydney Aquarium. So they can connect to the beauty and diversity of marine creatures, take them to the interactive Discovery Rockpool. There, they can see, touch and learn about animals; stroke a Port Jackson Shark egg, feel the texture of a sea star and a spongy sea cucumber. By getting up close to aquatic life, they'll be more invested in how fragile and precious every animal is.
Get them acquainted with SEA LIFE Sydney Aquarium's conservation efforts. Help them become aquatic-environment advocates as they learn about the detrimental effects of plastic and sustainable fishing. Tell them about the attraction's research and education push; highlighting the plight of endangered marine life, as well as the Ocean Youth programs. Light a conservation-leadership fire in your family.
The Gift of Giving
A family that volunteers together grows together. By reaching out with your kids, they learn about generosity and creating connections with their community. Have a family chat, and find a cause you can all put your energy behind. Altruism creates a sense of empathy and belonging; your kids will want to keep giving back. Get behind something that puts the planet first. Instead of being part of the 'buy, buy buy' – bring it back to what matters.
The Gift of Nature
Go outside and do something fun together; after you've eaten your fill of Christmas food – go for a walk so you can settle in for the afternoon, feeling energised. If you're lucky enough to own a great pair of binoculars – take them with you (or ask Santa for some). Search for a guide to local bird-spotting and make a game of it with your walking party. Who can identify the most birds? It's a great activity for young and old! To bring nature indoors, choose a potted Christmas tree; that way, you can enjoy the greenery and the fantastic aroma, year-round. It also saves another cut-tree or more plastic earth-unfriendly fronds. 
The Gift of Homemade Cards
While bought Chrissy cards are glossy and lovely – they're usually read once, then discarded (no pun intended!) Instead of another throw-away item, take the time to DIY Chrissy cards. Make it a family event – put aside some time, and gather all the materials you need to make some merry greetings. As well as a fun family activity, giving homemade cards will mean so much more, especially if they're made with love. Some ideas for things to use: cut out images from last year's calendar, sections of kids' artwork, collected leaves or a potato stamp.