Fun Activities in Sydney to Raise Little Explorers
Tuesday 9th July 2019
Sydney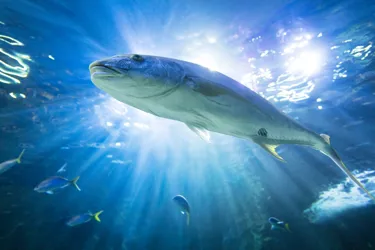 Any parent can testify to the natural curiosity of children. They're interested in everything; learning how the world works through exploration and play. And it doesn't stop as they grow, their interests simply change. Here are our favourite toddler activities in Sydney and other things to do in Sydney with kids. Get out there, little explorers!
Unearth the Imagination
RAWRRRR! Dinosaurs are a universal favourite with kids. But did you know there's so much more to the Jurassic era than great big land dinos? Plesiosaur ruled the seas with its long neck, twin-set fins and razor-like teeth! Check out the replica Plesiosaur skeleton at SEA LIFE Sydney Aquarium, or become a dinosaur detective and hunt for fossils and bones. Discover ancient monsters of the deep like the unique Lungfish.
Mini Museum
Take the little ones to the Australian Museum, for science-based playtime! With different themes each month, this playgroup never gets boring. Activities revolve around the monthly theme, for example, dinosaurs, or megafauna. Each session includes a song, a story, and time to explore through play. Parental or guardian involvement is strongly encouraged. For ages 3 to 5, there are Friday morning sessions during term time, starting at 11am for one hour. There's also a tiny tots program for kids aged from 9 months up to 3 years.
Animals Galore
There's so much to learn in our backyard. Australian animals are all around us, but sometimes the absolute best place to see them is all in one place like WILD LIFE Sydney Zoo. Discover a range of native animals, from cute to whoa... what's that? Even kids who think they've seen it all will be impressed. Feed times are regular, as are talks with keepers, so there's always something exciting to discover. In the Nightfall Habitat, nocturnal creatures like Sugar Gliders and Ghost Bats come out to play. Find out what goes on in the bush after dark, without interrupting the kids' bed-time!
Celestial Exploration
For older kids, star-gazing can be hugely interesting. Download one of the fancy astronomy apps, and use it to find constellations in real-time. Research the names and meanings, and discover how the star stories of Indigenous Australians differ from those of the Greeks. Learn how many cultures used starlight for navigation, both at sea and on land. And for added excitement, plan your viewing to coincide with the passing of the International Space Station (ISS). Sighting times are easily found online.
High Ranger
Some of the best views near Sydney are found at Illawarra Fly Treetop Adventures. The magnificent Treetop Walk offers a birds-eye view across the ranges, from the coast to the Southern Highlands. But it's on the interactive Rainforest Ranger trail that kids can start sleuthing. Follow the clues and questions to learn more about the local plants and animals, and even how the walkway framework was created. The interactive info along the way helps demystify the ancient rainforest of the escarpment.
There's a whole world out there to discover. Have fun charting new territory with your little explorers!