Fun Things to do with Grandkids in Sydney
Monday 27th May 2019
Sydney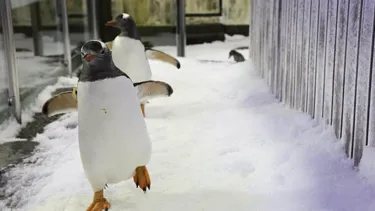 Being a grandparent is a gift; you get to love them, spend time with them and spoil them; then, you get to give them back! Sydney is full of fun, creative activities and outings that allow you to make the most of your grandchildren's young years. Here's a great way to spend a day while you make memories and strengthen the bond.
Go Underwater
For some crafty inspiration, head to SEA LIFE Sydney Aquarium. With a host of incredible marine life, this is the place to keep your grandkids engrossed while they ogle everything from sharks to rays. They can even discover an elusive dugong, which is a Malay word meaning 'lady of the sea.' And then there are the penguins; playful waddlers who'll charm the kids with their black and white skylarking. Our ocean tunnels offer unique views of some of our most enthralling creatures as they swim and glide and right over you. And if you've got tactile little tackers, the Discovery Rockpool gives them a sensory experience where they can touch sea stars, Port Jackson shark eggs, shells and more!
And because SEA LIFE Sydney Aquarium is all about conservation, you can educate your grandkids about keeping our underwater friends safe for generations to come. Then, to continue with the theme of your day, after your visit – head home and get crafty. Using objects and ingredients you've already got, recycle them for some kids projects which will wow your little charges.
An Ocean in an Egg Carton
Grab some treasures you've collected at the beach to make an under-the-sea scene using an old egg carton, shells and pebbles. Besides your egg carton and treasures, you'll need blue paint, glitter glue, scissors, coloured cardboard and green wrapping ribbon. First, paint the inside of the carton, then spread your glitter glue over the top for some serious sparkle! While the paint dries, draw and cut out some fishy friends from the coloured cardboard, cut lengths of green wrapping ribbon and use the scissors to twist it into a spiral seaweed effect. Assemble your scene; fish at the back, seaweed at the front, with your beachy treasures glued on. Shut the box and open it to reveal your underwater creation.
Sea Turtle Pancakes
To make these delicious little creatures, whip up your pancake batch and grab some grapes and kiwifruit. Then it's time to get cooking; when your pancake is ready, cut your grapes so you get little circles and line the entire pancake with them. For the flippers, cut two grapes lengthways and voila! Now, cut your kiwifruit so you get a round, flat disc, then halve it for your turtle's head. For the eyes, slice your blueberry in half, and there you have it – a turtle pancake for your hungry helpers.
Cardboard Tube Jellyfish
For this crafty creation, you'll need an empty paper towel roll, paint, a small paintbrush, a hole punch, some string and scissors. First – cut the bottom third off your paper towel roll, then paint the outside of the longer piece of the towel roll in one colour and the inside of it in another. Use your small brush to paint designs on the top part of your jellyfish, then, when it's all dry – cut slits around the entire tube from the bottom of the tube to the top part. Use a pencil to roll your tentacles and give them some shape, and finally – punch a hole at the top of your jellyfish, tie a string and hang your jelly creation.
At the end of your day together, your little charges will be full of aquatic inspiration, with a belly full of turtle pancakes and an underwater world to take home in memory of their fabulous day out.
Turtle Pancakes Photo Credit Karen McLean @secretsquirrelfood | Cardboard Jellyfish Photo Credit Buggy and Buddy | Egg Carton Underwater Scene Photo Credit The Imagination Tree