World Oceans Day 24 hour beach clean
Friday 31st May 2019
SEA LIFE Trust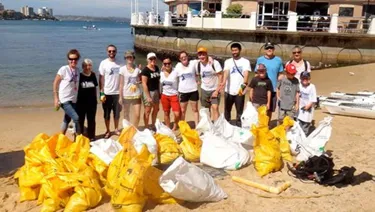 Volunteers are encouraged to join in the beach clean events as part of a global event to support World Oceans Day.
This World Oceans Day (8th June 2019), global marine conservation charity, the SEA LIFE Trust will launch its biggest clean-up mission yet - a 24-hour beach clean event starting in New Zealand, before heading to Australia and ending in California. The 24-hour event will be hosted across 50 different SEA LIFE attractions taking place from Sydney to Scarborough.
It is estimated that 8 million tons of plastic waste enter the world's oceans each year and that by 2050, the oceans could have more plastic than fish.
Participating Sydney locations on Saturday 8th June, include:
0830am - 0930am, Lavender Bay - meet at the Sydney by Kayak boat ramp

You can be part of this global effort by joining the SEA LIFE Sydney team with a Sydney Harbour clean up in the stunning Lavender Bay.
Meet at the boat ramp. Clean up bags will be provided.
For more information, head to the SEA LIFE Trust ANZ event page

10am - 12pm, Manly Beach - meet at Ben and Jerry's Manly, shop 5&6, 25-27 South Steyne, Manly

You can be part of this global effort by joining SEA LIFE Sydney's good mates Ben & Jerry's with a clean-up from their Manly store, along stunning Manly beach.
Clean up bags will be provided. Please bring your own reusable gloves so we can reduce our single use waste footprint even more.
Ben & Jerry's Manly will also provide a free scoop of ice cream in exchange for a bag of litter* (*1 per customer)
For more information, head to the SEA LIFE Trust ANZ event page
Andy Bool, the Head of SEA LIFE Trust adds: "Most of the littered plastic waste worldwide ultimately ends up at sea. The litter washing up on our local shores is not just unpleasant to look at; it also harms and kills our precious wildlife. Hundreds of species of marine wildlife including seals, seabirds, turtles and whales have mistaken marine litter for food resulting in starvation, poisoning and fatal stomach blockages.
"It's not just animals which are at risk of ingesting plastics!" adds Bool. "Microplastics act as magnets for dangerous chemicals from the water before being eaten by plankton and filter-feeding animals. Once they have been eaten they quickly move up the food chain as predators eat their prey and build up in high concentrations in larger species, such as tuna. These can eventually find their way on to our own dinner plates!"
The 24 hours of beach cleaning will be captured in photos with camera partner Olympus and we are asking volunteers to take pictures and post their best 'clean-up' pictures on social media using hashtag #24HourGlobalBeachClean. These pictures will be used as a great reference point for what waste is found where and with the added benefit that each post using the hashtag will be entered into a competition to win the latest Olympus Tough camera, ideal for underwater photography and
capturing images in all environments.
Georgina Pavelin, Marketing Manager for Olympus, comments: "Olympus is proud to be the imaging sponsor of the SEA LIFE Trust, our imaging division is working closely to document some exciting projects including some of the beach clean events. Photography helps to support awareness and share stories of inspiring changes to support both animal welfare and environmental matters with the aim to evoke change. Our UK office is supporting the beach clean by driving awareness and
encouraging staff to participate to make a difference. The beach clean can encourage all ages and abilities to get involved in a group clean up and we are looking forward to the results."
"This 24 Hour Global Beach Clean provides a simple and effective way in which everybody can help to turn the tide on litter, starting with their own local riverbanks, park or beach – all litter ends up in our oceans. In the past, SEA LIFE Sydney Aquarium has hosted successful clean-ups but this year we want to focus on World Oceans Day and work with our sister attractions across the globe to really come together and focus our attention on what we see as a global crisis," said Richard Dilly, General Manager at SEA LIFE Sydney Aquarium.
"We have seen first-hand the direct impact plastic has on marine life through our recently opened Animal Rescue Centre at SEA LIFE Sydney Aquarium. The first rescue patient was a Green Sea Turtle named Matilda who was found struggling and underweight. Matilda wasn't eating well and after two weeks, staff noticed that she had passed plastic during the night. The poor turtle had ingested over one meter of fishing line and a sticker from a Turkish candy bar, which had clearly caused her discomfort, pain and impacted her appetite. While Matilda was successfully nursed back to health and released back into the wild in April, her rescue reinforces the devastating impact that plastic pollution is having on marine life, who mistake plastic for food," Dilly added.
Richard Dilly concludes, "It's vital that everybody plays a role in reducing plastic waste entering the seas to help protect our marine creatures. At SEA LIFE Sydney Aquarium we are committed to educating locals and visitors to Sydney about marine life and how they can help us protect these creatures for future generations."
SEA LIFE Sydney Aquarium is appealing for volunteers to lend a hand, you can find more information and learn about how you and your family can become part of the 8th June activities at the SEA LIFE Trust website: http://www.sealifetrust.org.au/
The SEA LIFE Trust champions the need for seas which are properly protected, free from plastic pollution, and full of diverse life. This year, as well as focusing on plastic pollution and the 24-hour global beach clean, the charity will make ground-breaking steps for previously captive cetaceans by opening the world-first SEA LIFE TRUST Beluga Whale Sanctuary in Iceland.
The 24 hours of beach cleaning will be captured in photos with camera partner Olympus and we are asking volunteers to take pictures and post their best '24 Hour Global Beach Clean' pictures with the hashtag #24HourGlobalBeachClean