Top 5 Facts about sea creature's teeth & tails
Wednesday 9th February 2022
Penguins, Dugongs, Seahorses, Sea Life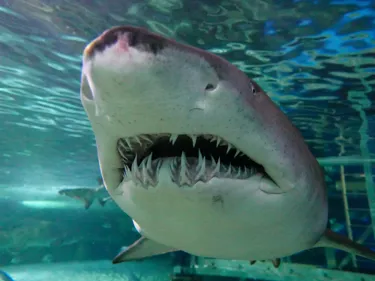 The ocean is filled with lots of weird and wonderful creatures, many of which have even more unique teeth and tails. Here are some top 5 facts to get your teeth into:
1. No teeth, no problems!
Penguins, like most birds, have no teeth – however as a chick they have a sharp bump on their beak called an 'egg tooth'. They use this to help crack open the egg when hatching.

2. Look at that tail!
Dugongs and manatees are often mistaken for one another. However, there is an easy way to tell them apart. Dugong tails are fluke-shaped, just like a whale or mermaid. If you look at a manatee tail, it is more like a paddle.
3. Chomp chomp chomp
Sea urchins have pointy spines, but this isn't the only sharp part of their body! Urchins use their razorlike teeth to bore through rock, chomp on corals or even a starfish!

4. Seahorses can hold on tight!
Seahorses have very flexible tails! They use these tails to hold on to vegetation like seaweed or seagrass to anchor themselves. Seahorses aren't the strongest swimmers, so this helps them stay in one place and feed.
5. Moray eels ahead – watch out!
Moray eels have an extendable jaw or a 'pharyngeal jaw' and sharp teeth. They use these tools to firmly grip and trap their prey so they can't swim away.
Don't miss the chance to discover more about the teeth & tails of the sea this month at SEA LIFE Sydney Aquarium! 
Book Now
General Admission
Online From
$40.80
Per Adult
Price includes Digi Photo Pass with 8 digital photos included – valued at $26!
Get your ticket on your phone

| | | | |
| --- | --- | --- | --- |
| Ticket Type | Price on the day/School Holidays/Weekends | SAVE 20% - Pre-book online in advance on weekdays | High-demand pricing |
| Adult | From $51 | From $40.80 | $53 |
| Child (3-15 yrs) | From $38 | From $30.40 | $40 |
| Student or Senior* | From $41 | From $32.80 | $43 |
| Child (0-2 yrs) | FREE | FREE | FREE |

 

*All concession holders must have a valid concession/student/health care card to gain access to the attraction with a Student/Senior ticket.

Please note: Our ticket pricing is subject to available capacity and prices may fluctuate during periods of high demand.

Children under 16 years of age must be accompanied by an adult (18+)
Guarantee entry by booking online