Why Kids Love Sydney Sea Life
Wednesday 20th March 2019
Sydney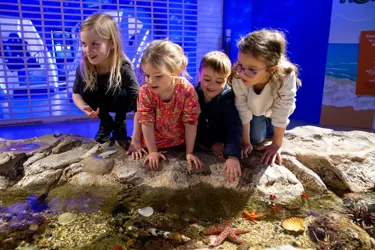 It's no secret kids love water: think of their beaming faces as they jump into a puddle or that lit-up wonder as they watch Finding Nemo. But rarely do they get the chance to get up close and personal with the underwater world.
That's why a trip to the SEA LIFE Sydney Aquarium is the perfect activity to do with kids of all ages. It gives them a chance to get cosy with hundreds of different species of marine life – without getting wet.
Because no matter how many times they see these sea creatures on-screen, nothing compares to seeing a live creature – right there! When they see the actual animals, the kids will marvel at both their weird and wonderful qualities. Build on your kids' natural curiosity; gift them a brand-new journal for their visit where they can document observations, and draw what they see. When you get home, have a chat about what you see.
Located in the heart of Sydney's Darling Harbour, the SEA LIFE Sydney Aquarium offers a whole new world for your little ones to dip their toes into. There are over 13,000 magnificent creatures and over 700 species throughout the themed aquarium habitat zones. See their imaginations bloom as they meet brand new species they (and you, probably) have never heard of.
But not all the animals are behind glass at the SEA LIFE Sydney Aquarium!
"I can touch them!" Watch the excitement wash over your wee ones as they make real-life discoveries in our hands-on rockpool. Touch the unique spiny skin of a sea star, handle real-life shark eggs and thumb the other-worldly textures of a range of shells. This tactile feedback helps your kids better understand our world by adding another layer to their learning experience.
Plus all the 'oohs' and 'ahs' can lead to exciting, engaging and often hilarious conversations when you get home! Mum – what would you do if you had eight hands?
The kids can also see some incredible fossils in our Jurassic Seas exhibit. Step back in time by venturing into the depths of the ocean to see where life began. Learn about evolution and discover the mysterious Nautilus, Port Jackson sharks, jellyfish and lungfish. And with the world's first ride-through boat ride in our Penguin Expedition exhibit, you and your kids can cruise past our spectacular colony of King and Gentoo penguins. Your little ones will be as happy as clams during a sensory and educational sub-Antarctic boat journey with this one-of-a-kind immersive experience.
No matter what kind of learner your child is, there'll be something to delight and excite at SEA LIFE Sydney Aquarium. Be mesmerised by the slow-moving, rhythmic jellyfish, take in the vibrant colours of the reef, and learn underwater secrets on our daily talks and feeds, or even our Behind the Scenes Tour. Then dive head first into touching and playing with the real-life objects.
SEA LIFE Sydney Aquarium is a great place to spark your child's imagination and trigger an even greater appreciation for the sheer magnitude of life under the sea! To save up to 20% on your entry price, buy tickets online in advance.
Book Now