Experiences
Private Group Dining
Enjoy Sydney in your own exclusive dining zone
Exclusive Dining Experience
Be mesmerised as hundreds of fish, turtles, sharks and sawfish cruise the reef before your eyes
Located in the heart of Sydney in stunning Darling Harbour, you and your friends will be captivated by our incredible marine exhibits as you dine on a delicious 3 course menu.
The experience includes exclusive after-hours access to the Aquarium, along with a three course dinner (set menu) and 2 hr premium drinks package (red, white & sparkling wine, beers and house spirits), in one of 2 private dining locations; Heart of the Reef, our 360° glass tunnel where you will be mesmerised as hundreds of fish, sharks, and turtles cruising the reef above and below you, or Turtle Beach, a wave frozen in time allows you to take in the full beauty of the Great Barrier Reef through the Oceanarium's floor to ceiling viewing window.
Only two private seating will be available each night. Minimum Spend $225 per person including all food and beverages. Minimum of 10 guests.
WHAT'S INCLUDED? 
Exclusive after hours access to the aquarium
Scrumptious 3 course dinner (set menu)
Premium beverage package; including Sparkling, white & red wine, house beers, soft drinks
Memorable dining experience in chosen location (Turtle Beach or Heart of the Reef)
Book Now
Fill out the event for below to book your group dining experience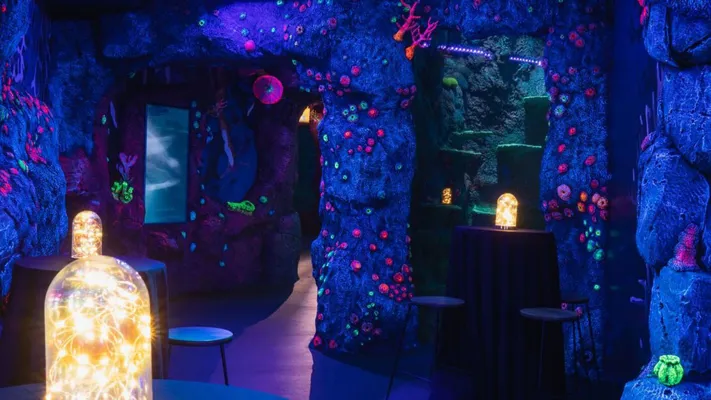 FAQs
There are 2 dining locations available for you to select. Your chosen dining area will be visually private, allowing you to enjoy the reef exclusively with your group. However you may see other guests throughout the evening. Once you are seated we ask you to be respectful of other guests and remain within your booked location.
Arrival is strictly required between 6.00pm – 6.15pm, when your dinner host will open the main entrance to admit guests for this experience. At 6.15pm, the entrance doors will be closed.  In the circumstances guests are running late we are unable to extend the experience beyond the booked finish time.
We aim to cater to all dietary requests, please contact us with any requirements prior to confirmation of your booking. Unfortunately any requests made on the night may not be able to be accommodated.
Yes, as a completely exclusive bookings you are permitted to include children, provided the minimum spend is still met. Please note that there is a minimum of 10 guests for this experience inclusive of all guests in attendance including babies/children. 
We are hopeful we will be able to start offering the 2 person experience soon. At this stage to make the individual dining viable we need to book at least 4 couples on a night to be able to re-start this experience, we have started a waitlist for dates in demand, once a date reaches 4 couples they will be contacted to finalise their bookings. If you would like to go on the waitlist please email events@merlinentertainments.com.au with your preferred date.
Our number one priority is the wellbeing of our guests & our team. Merlin Entertainments is working closely with the Department of Health to ensure we remain aware of updates and best practice throughout the changing Covid-19 situation. On top of our usual high standards for cleanliness we will be implementing a number of additional measures to ensure the protection of you and our team, this includes additional hand sanitiser stations, signage throughout the venue to help you follow social distancing guidelines,  ample space given between guest seating for dinner, all staff to be temperature checked on arrival to their shift and to wear gloves throughout the evening, as well as a dedicated cleaning team to ensure the venue is cleaned to standard prior to your booking and that all high touch-point areas are cleaned regularly throughout the experience.  
Looking to host a larger event?
Are you looking for a larger group dining experience or party? Our team of event experts would be happy to help. Contact our events team today using the enquiry form below