Bring Your Stars to Meet Ours!
SEA LIFE Aquarium offers groups the opportunity to explore the creatures that live in our lakes, rivers, and oceans through interactive, hands-on experiences. From feeling the spiny skin of a sea star to gazing at sharks swimming overhead, spend the day exploring over 10 marine exhibits, 2,000 sea creatures and 250 species in an immersive setting.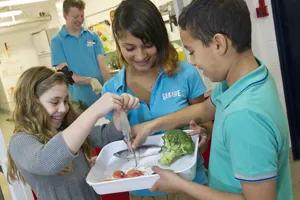 Educational Workshops
Enhance your visit to Michigan's largest aquarium with an educational workshop and learn about our amazing underwater creatures, their habitats & how to protect them.
Add for as little as $2 more per child
30-60 minute programs
Hands-on science activities
Available for non-school groups, too!
Please note Educational Workshops are not currently available.
Learn More