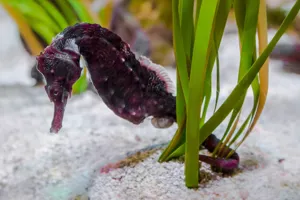 Explore a Mangrove Full of Seahorses
"Hang on" like a seahorse's prehensile tail — it's easy to get swept up by the current in a mangrove forest! Here, you'll discover eccentric and graceful little creatures who are specially adapted to thrive in their lush habitat.
Dive Deeper
Seahorses eat three times every day to stay full - maybe you will spot one having a snack during your visit!
Learn amazing facts about seahorses, including that the male seahorses give birth!
SEA LIFE Michigan is part of a global seahorse breeding network that helps protect these endangered species around the world.