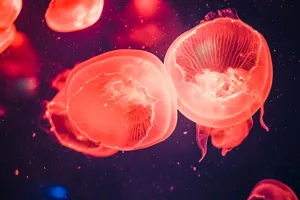 Become Mesmerized
See Jellyfish like never before as you control their color!
This one-of-a-kind jellyfish exhibit allows you to change the lights in the habitat and see the creatures in a kaleidoscope of color. Watch as these otherworldly creatures drift weightlessly through the current.
WHOA - You Need to SEA This!
Kids and adults alike will love seeing jellies change color in this interactive display.
SEA LIFE Michigan breeds the cute little jellies behind-the-scenes, you may spot a juvenile jelly on your visit!
While SEA LIFE Michigan boasts sharks and stingrays, jellies are actually one of the deadliest creatures in the ocean.