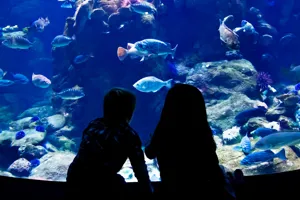 Ahoy! Tharr Be Unique Creatures Ahead!
Sink into a pirate's shipwreck and spot some of SEA LIFE Michigan's most unique creatures!
'Howl' at our six-foot-long Wolf Eel, descend into a technicolor coral reef, spot a group of lionfish waiting to sting and more! Plus, enjoy a charming and charismatic encounter with a fan favorite — our garden eels.
WHOA - You Need to SEA This!
The Shipwreck contains 5 different habitats totaling 6,000 gallons of curiosity
Over 200 species greet you in this unique exhibit - you'll spot something new every time you visit!
SEA LIFE Michigan participates in coral reef restoration and rescue projects around the globe - see real live coral here and learn more about how to keep our oceans safe