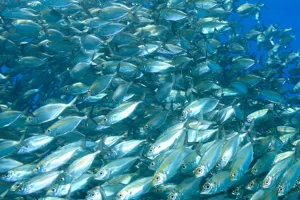 Surround Yourself with Schooling Fish
Escape into 360-degrees of sparkling, shimmering, schooling fish! Witness hundreds of flagtails and pilchards school around you as a glistening bubble curtain pops from below. Spiny lobsters will greet you at the bottom of this one-of-a-kind exhibit, too.
WHOA - You Need to SEA This!
See how schooling fish coordinate movements with one another to avoid and confuse predators like sharks
Look no further, this experience is Michigan's only 360-degree schooling exhibit!
This exhibit is 8,000 gallons - more than 40 bathtubs of sparkling water!