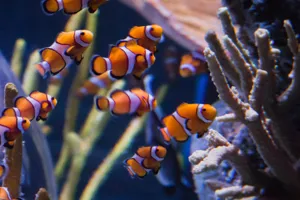 Clownin' Around
See cute clownfish, your favorite fishy movie stars, playing hide and seek among vibrant live coral.
All the colors of the rainbow can be found in this colorful habitat, including the deep blue color of our other fishy friend, the regal tang!
WHOA - You Need to SEA This!
Look closely and you may spot baby coral bred at SEA LIFE Michigan.
Get your camera filter ready, this is one of the most colorful exhibits in the Aquarium.
No autographs are allowed, but you can can come face to fin with the fishy celebs you know and love from your favorite kids movies.