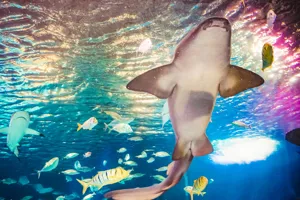 Cunning underwater predators
Enjoy sensational shark encounters at Michigan's largest aquarium.
Sharks swim right overhead and all around you in Michigan's only underwater tunnel. Witness several different species from our largest shark, Florence the Nurse Shark, to cute tiny sharks near Stingray Bay.
WHOA - You Need to SEA This!
Explore five shark species including several you can't see anywhere else in Michigan.
Florence, the nurse shark, loves to take naps on top of our ocean tunnel. She can often be found lying overhead where you can get a close look.
Did you know sharks are made of cartilage, just like your nose and ears? Learn even more about sharks at SEA LIFE Michigan.