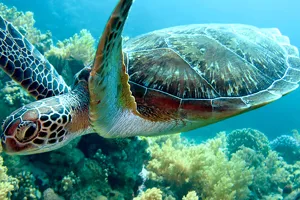 'SEA' Michigan's Only Rescued Sea Turtles
Meet Benson and Carr, our rescued green sea turtles, in our breathtaking Underwater Ocean Tunnel.
Full of personality and curiousity, they'll often come face to flipper with you to check you out! Both Benson and Carr were victims of boat strikes, which require extraordinary care. We've given them an amazing forever home at SEA LIFE Michigan because they cannot safely return to the wild.
WHOA - You Need to SEA This!
Benson and Carr love eating veggies, and you can sometimes spot a sea turtle feeding too!
See their temporary weight patches which help them swim properly.
While at SEA LIFE, learn amazing ways to help these creatures here in Michigan!