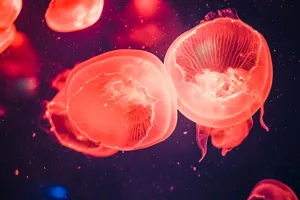 150,000 Gallons of WOW
Journey into an inspiring underwater world with quirky creatures around every turn.
Get lost in a gang of mesmerizing jellies, explore a dense mangrove full of seahorses, and spot a sea creature movie star in a teeming coral reef.
From a giant green moray eel, to lively lobsters, an ocean of adventure awaits you right here at SEA LIFE, Michigan's largest aquarium.
Dive Deeper
Over 250 species and 2,000 sea creatures in 150,000 gallons of wonder
Encounter several species of sharks you can't see anywhere else in Michigan
Come face to fin with local, native-to-Michigan, creatures in our freshwater habitat, and learn about our Lake Sturgeon conservation efforts