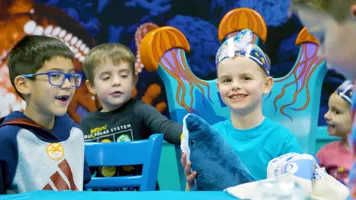 FIN-tastic birthdays for kids
Shell-ebrate your birthday child with a party fit for a SEA star!
Traditional Party Package
$27.99 All-Inclusive Price Per Person
Aquarium Admission included
1 hour in private party room with host
Bagged cookies for each guest
Juice box for each guest
Party crown for each child
Birthday button for birthday child
Plates, cups, napkins & utensils
You're welcome to bring your own cake
What to Know
Birthday parties must be booked at least 2 weeks in advance
15 person minimum and 35 person maximum room occupancy
Adults and children (ages 3+) require paid tickets to attend. Children under 3 are free.
Please arrive 15 minutes before your scheduled Party time to check in & maximize your time in the Party Room
All Party guests must arrive on-time and enter together
Your time in the private Party Room begins at your scheduled start time, ends 60 minutes later, and cannot be extended
Pizza and pop is NOT included with the Traditional Birthday Party package
You may bring in a store-bought cake which includes a list of ingredients. No other outside food or drink is permitted.
Open flames (i.e. lighting candles) are not permitted due to fire regulation
Enjoy your self-guided tour of the Aquarium after your party has concluded
Birthday Party tickets are non-refundable within 2 weeks of your Party date
Extras & Add-Ons
Make the most of your visit with our Ranger Pack, which includes 3 fun missions for kids to complete throughout the aquarium! The Ranger Pack also comes with a lanyard, magnifying glass & pencil. Just $5.00 each and can be added to your online shopping cart before checking out.
Includes all digital photos taken at the main entrance green screen (perfect for a Birthday Group Photo!). Just $10 and can be added to your online shopping cart before checking out.
Décor & Invitations
Enjoy stress-free planning with the following:
Access to our decorated private party room for 1 hour


Dedicated party host in your party room
Party supplies (tablecloths, plates, napkins, and utensils)
Birthday Button for the Birthday Child
Refreshments & Snack 
Store bought cakes are permitted.
No other outside food or beverages allowed.
Pitchers of water will be available.
Download SEA LIFE party invitations to print and pass out to party guests.
What to Expect on Your Special Day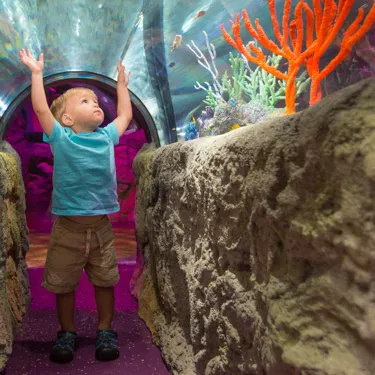 WELCOME & CHECK-IN
Please have the group leader check-in at the Admissions counter 15 minutes prior to your Party time. Gather your entire group just outside Admissions and wait for the Party Host to collect you.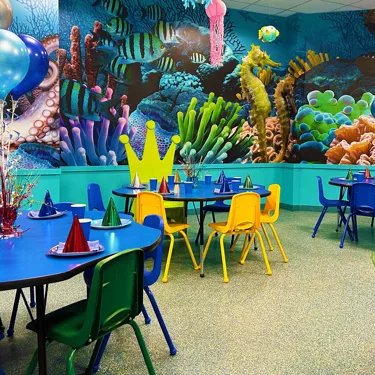 PRIVATE PARTY ROOM
Enjoy 1 hour in our private Birthday Party room. Beverages and snacks will be served. Plates and utensils are available if you choose to bring your own birthday cake.
View Photos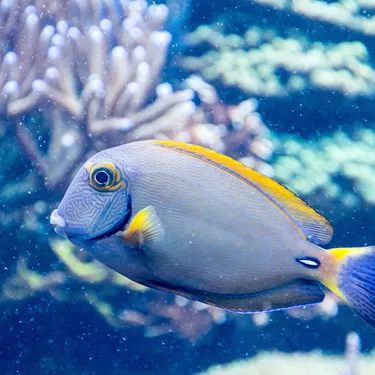 FOOD & DRINKS
Each party guest will receive a bag of cookies and juice box. You may bring in your own store-bought cake, but no other food is permitted.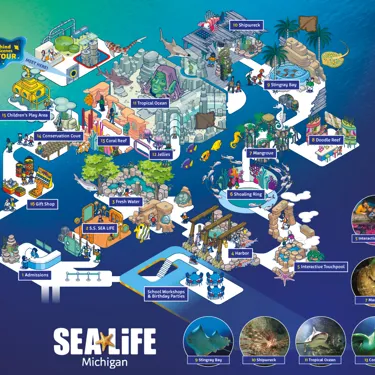 TOURING THE AQUARIUM
Your party package includes admission into the aquarium for all your guests. The self-guided tour is usually 60-90 minutes, but you may stay as long as you like.
View Map
Frequently Asked Questions
The Traditional Package includes the following:
Aquarium Admission
1 hour private party room with host
1 juice box for each guest
1 bag of cookies for each guest
Birthday Button for the birthday child
Plates, napkins, cups, and utensils
Reservations must be booked online at least 2 weeks in advance
Payment is taken at time of booking in order to reserve your party package, date and time
For additional questions, please email our Booking Coordinator, Riley Scher at riley.scher@merlinentertainments.biz. 
Our party room can accommodate up to 35 guests maximum.
If you have a group of 30-35 people, please contact Riley Scher at riley.scher@merlinentertainments.biz or call (248) 289-9404 to book your party.
You may bring a store-bought cake (or cupcakes), but no other outside food or beverage is permitted. 
Yes, whether part of a party or just visiting the aquarium, all guests require a ticket
The per-person package price is the same for adults and children in your party
Each paid party guest will receive everything included in the package
We recommend your entire group arriving 15 minutes before your scheduled Birthday Party time.
If you are running late, we will do our best to accommodate your party in the time remaining, but we cannot extend your time in the private room past the 1 hour allotted.
If some of your guests arrive late, our party host will do their best to escort all late guests to the party room but there may be a delay.
Please bring with you the email confirmation of your order, either printed or you can present this on your mobile device. Again, you are also able to bring a cake or cupcakes but no other outside food or beverages are allowed.
Other than the above, no need to bring anything else. We'll handle the rest!
Yes, but there must be at least one adult for every 10 children present. Pick-up can take place in front of the Aquarium where you first arrived. We ask that Birthday parents communicate this to any parents who are just dropping off their children for the party.
Ready to Book?
All parties must be reserved online and paid in full to secure your party date.