5 Interesting Facts about Sawfish
Tuesday 5th January 2021
Sawfish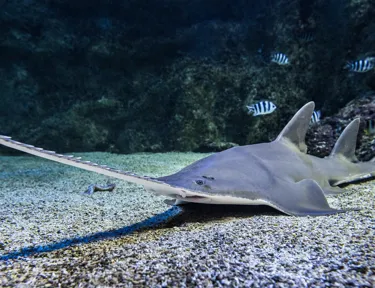 Here at SEA LIFE Sydney Aquarium we are lucky to be home to two largetooth sawfish Rodger and Ryobi. Our team here in Sydney think sawfish are very unique and incredibly interesting creatures. Check out these 5 fun facts about sawfish and we'll let you decide for yourself!
There are 5 different species of sawfish
These 5 species are the smalltooth, largetooth, green, dwarf and narrow sawfish. Sadly, due to being hunted, entanglement in nets and habitat loss, now 3 out of the 5 species are listed by the IUCN Red list as critically endangered.
Sawfish are ovoviviparous
This means the female has a fertilised egg grow inside her body and then gives birth to love young!
Sawfish look a little like a shark
But they are actually more similar to rays than sharks. This is because they have their gills underneath their bodies not on top like a shark.
A sawfish has a bit of a strange name
It gets this name from the large 'saw' attached to the front of its body that resembles a saw. This saw is called a rostrum
A sawfish's rostrum is filled with sensory organs
These sensory organs help the sawfish detect tiny electrical signals given off by their prey. This helps them hunt at night and in murky water!
If these facts have inspired you to learn more about sawfish and how you can help the species, dive in and visit Rodger and Ryobi in our Day and Night on the Reef exhibit right here at SEA LIFE Sydney Aquarium. Come and get up close to these magnificent creatures. Get your tickets online now.
Book Now
General Admission
Online From
$38.40
Per Adult
Price includes Digi Photo Pass with 8 digital photos included – valued at $26!
Get your ticket on your phone

| | | |
| --- | --- | --- |
| Ticket Type | Price on the day/School Holidays/Weekends | SAVE 20% - Pre-book online in advance on weekdays |
| Adult | $48 | $38.40 |
| Child (3-15 yrs) | $35 | $28.00 |
| Student or Senior* | $39 | $31.20 |
| Child (0-2 yrs) | FREE | FREE |

 

*All concession holders must have a valid concession/student/health care card to gain access to the attraction with a Student/Senior ticket.

Guarantee entry by booking online