Our top picks for the most picture perfect Instagram visit to SEA LIFE Sydney
Monday 27th July 2020
Instagram, Social Media, Tourism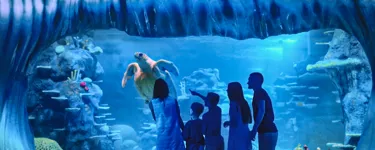 Here at SEA LIFE Sydney Aquarium we have some of the most unique and beautiful sea creatures that LOVE being featured on our guest's Instagram accounts!
We know that when you are inside our aquarium there is so much to SEA and do, you may miss some of the best photo ops, so we have made it super easy for you and put together SEA LIFE Sydney's most instagrammable spots so you don't miss that turtle-y awesome pic on your next visit. So let's dive right in!
1. COLOURFUL CORAL REEF TANK
This is easily one of our most beautiful exhibits. You can find this colourful tank in our Sydney Harbour zone near the beginning of your journey through the aquarium.
Location Tip: The lighting in this tank is bright so it is a great opportunity for a silhouette photo.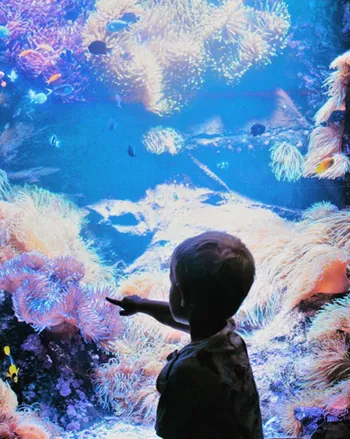 Photo credit: @melroselanephotography
2. UNDERNEATH PIG THE DUGONG IN OUR DUGONG TUNNEL
We can never get enough of Pig the Dugong! He is one of the most adorable creatures here at SEA LIFE Sydney and getting a picture with Pig is a SEA LIFE MUST DO!
Location Tip: Pig loves to graze on his sea grass at the bottom of his home, so it might take a few moments to get the perfect shot with him swimming above.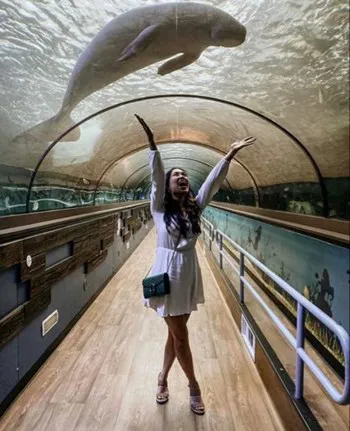 Photo credit: @couturecaddy
3. IN OUR MAGICAL EAGLE RAY TUNNEL
In the tunnel next to Pig's, you will find our majestic Eagle Rays floating through the exhibit. Snapping a photo with a Ray above you is much easier than Pig. Be on the lookout for our 3 little baby rays Luca, Leia and Ani!
Location Tip: The morning light in this tank is beautiful and often reflects rainbows onto the floor around you – perfect for a colourful gram pic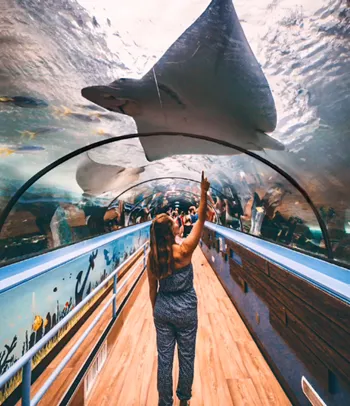 Photo credit: @cruise.diaries
4. DOWN IN OUR EERY SHARK VALLEY TUNNELS
SEA LIFE Sydney is home to 13 species of sharks and our Shark Valley zone holds most of these species! We have Wobbegongs, Port Jacksons, Crested Horn Sharks, but the most impressive teethy fish are our Grey Nurse Sharks.
Location Tip: A low angle looking up at these gentle giants gives a really great photo effect, showing off their teethy jaws and the sparkly water on the surface on the tunnels.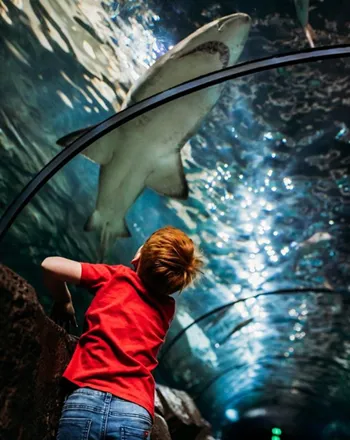 Photo credit: @fidorrans
5. GLASSY PENGUIN VIEWING BUBBLE
This is probably one of the coolest viewing points in the aquarium. Watch the penguins zoom about in their pool with beautiful bubble streams trailing behind them as they soar.
Location Tip: Our penguins get fed in the pool at 2:00pm and it is a sight not to be missed!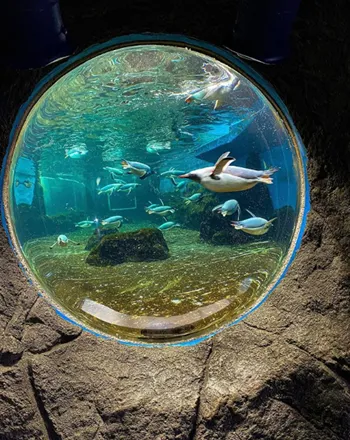 Photo credit: @sealifesydneyaquarium
6. THE BIOLUMINESCENT BEACH
Watch kids run over the sparkly interactive bioluminescent beach and then politely wait for them to leave so you can get the perfect shot.
Location tip: Time-lapse yourself running over the beach watching the colours change underneath your feet for a really cool effect! 
Photo credit: @wanderingdonut
7. AFTER HOURS PRIVATE DINING EXPERIENCE
For the ultimate Instagram experience we recommend booking one of our 6 private dining locations, there is no doubt you will be able to get the perfect shot! Find out more about our private dining experiences here.
Location Tip: the below photo is taken in our 'Heart of the Reef' Private Dining location.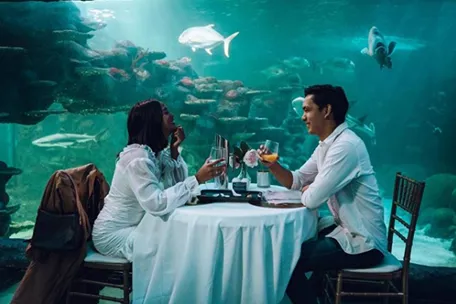 Photo credit: @zolobustami
We can't wait to SEA your photos! Book your tickets to visit us today and be sure to follow and tag us on Instagram @sealifesydneyaquarium so your photos can be featured on our feed.