Watch these grey nurse sharks enjoy a Mother's Day video call!
Monday 11th May 2020
Sharks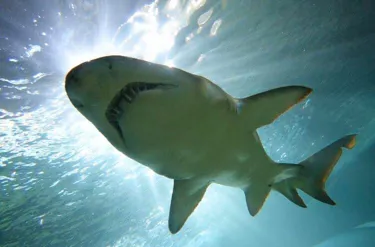 A grey nurse shark at our sister attraction, SEA LIFE Sunshine Coast has virtually reunited with her son right here at SEA LIFE Sydney Aquarium in time for Mother's Day!
It's not just humans wishing their mums a happy Mother's Day via video calls this year. Mummy shark Pallas enjoyed a call with her baby shark Murdoch, which is the first time they have seen each other in three years. The two sharks – Pallas aged over 30 and Murdoch aged 13 – used to live at Manly SEA LIFE Sanctuary but parted ways before the aquarium closed its doors in 2018.
It is not unusual for shark families to separate, in fact, most shark species do not play a role in caring for their babies after they are born.
Grey nurse sharks are an Australian threatened species that tend to live in shallow waters along the coast of New South Wales and southern Queensland as well as the southwest coastal waters of Western Australia. Both Pallas and Murdoch are ambassadors for their species, helping raise awareness of the dangers facing grey nurse sharks in the wild including illegal fishing and accidental capture.
SEA LIFE Sunshine Coast and SEA LIFE Sydney Aquarium are currently temporarily closed to the public, however, a team of aquarists and keepers still have the important task of caring for and feeding all of the resident sea creatures.