Our conservation project to save this endangered species!
Monday 17th February 2020
Seahorses, Conservation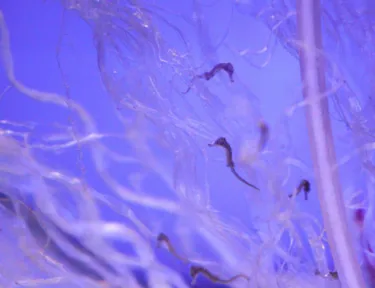 White's Seahorse, also known as the Sydney Seahorse, has recently been listed as an 'Endangered' species in NSW. It is now Australia's only threatened Seahorse species and the second Endangered Seahorse species worldwide.
To help recover declining populations, SEA LIFE Sydney Aquarium is implementing an exciting new breeding and conservation project in collaboration with a suite of organisations including the NSW Department of Primary Industries (DPI) Fisheries and the University of Technology Sydney (UTS) who are their two main partners. The project aims to successfully breed, raise, and release White's Seahorse back into the wild and monitor their success in helping reverse the decline of this iconic Endangered species.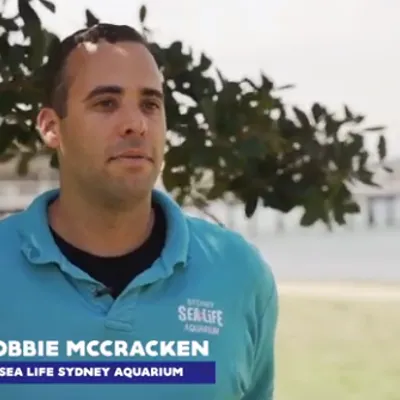 Robbie McCracken, Aquarist and Seahorse Expert at SEA LIFE Sydney Aquarium is leading the project and commented, "I'm thrilled with the progress of the breeding project to date. White's Seahorse is an interesting animal and sadly, largely due to natural habitat loss, this species is now classified as Endangered.
"For the past six months, we have worked closely with experts from DPI Fisheries and UTS to plan this project which kicked off last month when we collected breeding pairs from Sydney Harbour. This included some pregnant males and we're delighted to confirm that we've already witnessed six births.
"A large number of these babies are now on display in the new, custom built facility we have created at SEA LIFE Sydney Aquarium. The facility will accommodate the growing juveniles prior to their release back into the wild and enable visitors to the Aquarium to witness first-hand how incredible these creatures are.
"A really unique fact about Seahorses is that it's the males that give birth and it's a really amazing sight. Dozens of babies shoot from the pouch in one go, it's very dramatic! We're now in the process of raising these babies so that they are fit and strong before marking them and releasing into the wild next year," added Robbie.
The long-term aim is to support the overall recovery of the species with the installation of 'Seahorse Hotels' in Sydney Harbour which will encourage the recovery and ongoing breeding of White's Seahorse given so much of their natural seagrass, sponge and soft coral habitat has disappeared.