Baby Sharks Steal Hearts
Tuesday 7th January 2014
Sharks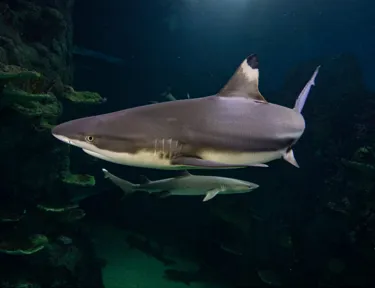 If there is one goal of Shark Mission, SEA LIFE Sydney Aquarium's new interactive experience, it's to challenge the misconception of sharks as vicious, man-eating predators of the ocean.
Whilst our infographics, interactive touch screens and hands-on quiz trail provide clear and concise knowledge counteracting the misinformation, there are two new residents that make our case far better than we ever could!
Baby Sharks at SEA LIFE Sydney Aquarium
Our two White-Tip Reef Shark pups, the male Poseidon and the female Girte, are the main attractions of the newly installed shark nursery. Complete with a spinning mobile and fun facts about the recently born sharks, Poseidon and Girte steal the hearts of all that walk past them - which goes a long way to dispel the myth that sharks aren't beautiful animals!
Challenge Your Fears!
So if you want to challenge the fears and misconceptions associated with the world's most misunderstood predator, come down to SEA LIFE Sydney Aquarium and pay a visit to Poseidon and Girte. We think you will agree with us that these majestic creatures need to be protected rather than culled - and that is our Shark Mission.