Wild weather washes baby turtle onto Maroubra Beach
Monday 29th March 2021
Animal Care, Conservation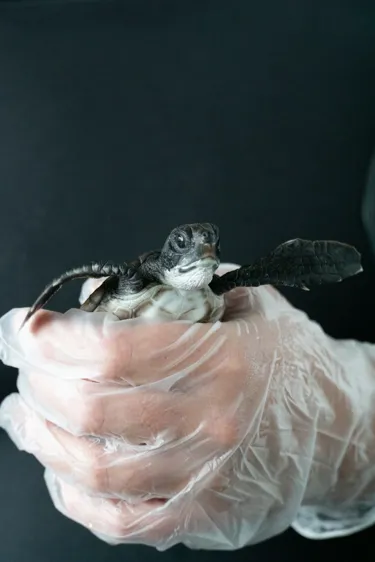 During a break in the rain on Sunday, the Jones family from Maroubra took a beach walk to see if any unusual shells had been washed up. To their surprise they found a struggling baby Green Sea Turtle measuring just 10cm.
Danny Jones along with his children, Archie aged nine and Jazzy aged seven affectionately named the turtle, 'Lucky' in the hope they could save its life, and they certainly did.
After a quick internet search, Danny found the details for SEA LIFE Sydney Aquarium's Animal Rescue Centre and within an hour, the team were at his home to collect Lucky.
Ben Wynand, SEA LIFE Sydney Aquarium's Life Support and Rehabilitation Supervisor has urged the public to keep an eye out for injured wildlife, in particular baby turtles following the recent storms. "It's likely that the weather system off the NSW Coast created hazardous ocean conditions that Lucky couldn't compete with. Exhaustion would have hit, which would have seen Lucky and other baby turtles washed ashore.
"We're really pleased to say that Lucky is making great progress. Measuring just 10cm, we believe that Lucky is only a few weeks old and hope that while in the SEA LIFE Sydney Aquarium's Animal Rescue Centre we can assist in helping it gain weight and build up its strength."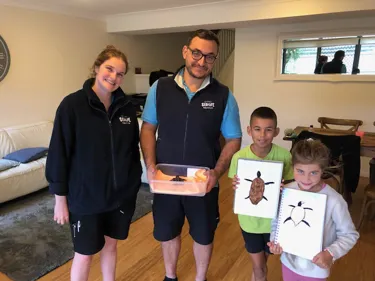 When our vets are happy with its condition and the weather is suitable, we will release it back into the ocean, close to where it was found."
If you spot any turtles that are injured, struggling or have been washed onto a beach, please contact the SEA LIFE Sydney Aquarium Animal Rescue Centre | Phone - 0402 783 455.