Two Beluga whales prepare for release into the world's first open water sanctuary
Wednesday 6th May 2020
Beluga Whale, Conservation, SEA LIFE Trust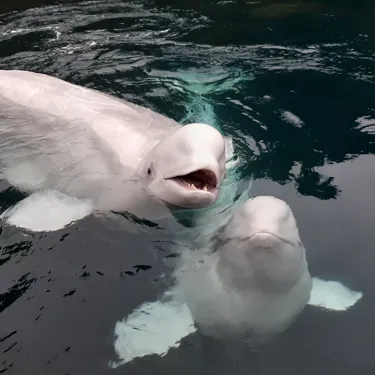 Two former captive whales will return home to the ocean when they are released into the world's first open water sanctuary for beluga whales in Iceland this June.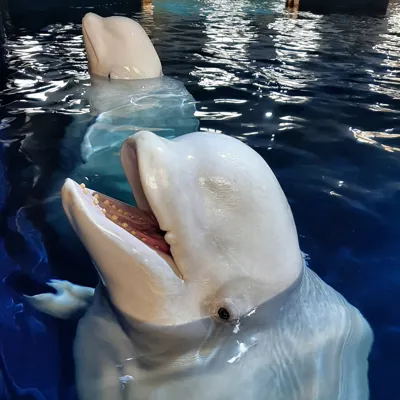 The charity SEA LIFE Trust has today confirmed that belugas, Little Grey and Little White, are in their final stages of preparation and ready to be moved from their temporary landside care facility to the large sanctuary in a natural bay just off the island Heimaey, one of the Westman Islands, located off the south coast of Iceland.
The Sanctuary, which is the first of its kind, was built with the support of a generous donation from Merlin Entertainments.
For the past 12 months, Little Grey and Little White's health and well-being has been closely monitored by a team of experts and veterinarians following their epic 6,000 mile relocation by air, land and sea from an aquarium in China to start a new life in Iceland.
Since their safe arrival to the island, the whales have been acclimatising and preparing for their return to a more natural habitat. This has included adding more blubber ready for the cool sub-Arctic water, as well as being introduced to the different flora and fauna they will experience in the bay and ensuring they are comfortable with the logistical methods needed for the move.
Andy Bool, Head of SEA LIFE Trust, said: "Little Grey and Little White have made amazing progress since arriving safely to the beluga whale sanctuary last year and we're really pleased to say they are now ready to be moved into their new open water home.
"This is a complex marine welfare project and our care team of world-leading experts have always been led by the individual needs of Little Grey and Little White. With current lockdown measures in response to the COVID-19 pandemic due to be eased in the coming weeks across Iceland, it's right that we make the best decision for Little Grey and Little White and move them into their new home.
"We'll continue to carefully monitor their health and well-being, as well as the ongoing situation and Icelandic weather closely, ahead of the planned move in June."
The move from their landside care facility on the island of Heimaey to the secluded Klettsvik Bay which measures approximately 32,000 sqm with a depth of up to 10m, marks the final chapter in Little Grey and Little White amazing journey back to the ocean. The full story of their journey from China over the last year will be told by  John Bishop  in an exclusive, new ITV documentary, produced by Plimsoll Productions to be shown later this year.
John Bishop said of his experience working with the SEA LIFE Trust Beluga Whale Sanctuary project: "This has been one of the best experiences of my life. Meeting Little White and Little Grey in Shanghai last April and following their journey, which has been far from straightforward, has been a real eye opener about the challenges faced by these animals and the dedicated people who are working to give them a better life. This is a film about hope, despair, disappointment, tenacity, realism and dreams and as I write this I still don't know truly how it will end."
Created in partnership with global marine wildlife charity, Whale and Dolphin Conservation (WDC), the SEA LIFE TRUST Beluga Whale Sanctuary is one of the biggest developments in captive whale and dolphin care and protection in decades and the first of its kind to be created for cetaceans.
For more information about the SEA LIFE TRUST Beluga Whale Sanctuary or to make a donation, visit www.sealifetrust.org.