Blue-ringed octopus craft
Thursday 30th April 2020
Octopus, Craft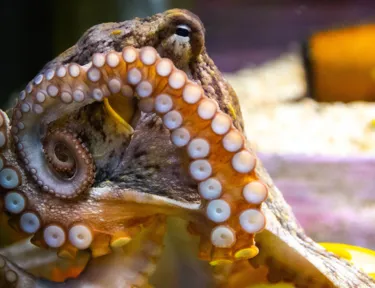 Dive into craft this weekend with our adorable blue-ringed octopus clay activity! Did you know the blue-ringed ocotpus is one of the most deadly creatures in the ocean!
Follow the steps below to make your own clay blue-ringed octopus and bring some of our aquarium to your home!
WHAT YOU'LL NEED: 
Air-drying clay
Paint
Paintbrushes 
HOW TO MAKE YOUR CLAY BLUE-RINGED OCTOPUS: 
Mold the head
Grab a small hand-full of clay and roll it into a long oval shape. This will be the head of your octopus.
Make the legs!
An ocotpus has 8 long legs. Roll out 8 thin pieces of clay and twist and curl them so they look like a ocotpus legs. Then secure them to the head of the octopus. You can use a little bit of water to help them stick if you need. 
Add the eyes. 
To make your ocotpus a little cuter, add two large eyes to the front of your ocotpus head. Roll two small balls of clay and press them on. 
DRY DRY DRY! 
Wait about 1 day for your clay to dry. Sit it in a nice warm sunny spot to help the process. 
Painting time
Now it is time to get colourful! Take your paints and cover your ocotpus in whatever colour you would like! And you are done!
Looking for more fun at home activities for the family?